Hansa Meyer completes transformer installation
By Katherine Weir15 August 2016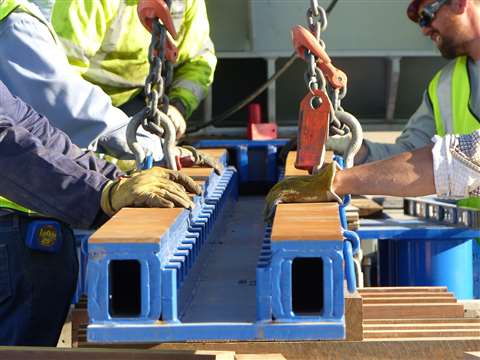 Texas, USA-based Hansa Meyer Heavy Haul & Rigging used a 500 US ton (454 tonnes) capacity, heavy track skidding system to position two transformers, originally from China, which had travelled 500 miles through Texas.
A HT500 and a Hydra-Pac synchronous electric power unit, both from Ontario, Canada-based Hydra-Slide, were used along with two Goldhofer trailers to complete the job.
A Hansa Meyer representative said, "We went with the Hydra-Slide as opposed to a crane because not only was it more cost-effective for our customer, as we already owned the unit and had an experienced team in place to operate it, but also because we were able to better use the work space versus the area that would be needed for the use of a crane when factoring in mobilization, crane mats, counterweights, etc."
Both transformers had dimensions of 26 feet 3 inches x 12 ft 10 in x 13 ft 9 in, weighing 186,509 lbs (84.6 tonnes) apiece. Upon arrival at the Port of Houston, the first transformer was directly discharged onto a 10 line Goldhofer DR and the other a 12 line SL Goldhofer with gooseneck, the company said. The project also included moving 12 truckloads of accessories to complete the installation at the final destination in West Texas.
A Hansa Meyer representative explained that extensive planning that preceded the Texas stage of the project, "A route survey was completed and the necessary permits were applied for. During those applications, we had to submit transportation drawings, specifying axle load and distances between the axles, which were required to obtain bridge permits. Drawings were also necessary to indicate specific dimensions of the transformers, trailers and overall length, height, width and weight of the loads. In addition to the paperwork, the trailers themselves had to be assembled."
Hansa Meyer designed and engineered an 8 ft container to store all the components of the Hydra-Slide system to ensure the integrity of the equipment, which was used over two days - one day allocated for installation of each transformer, the company said.