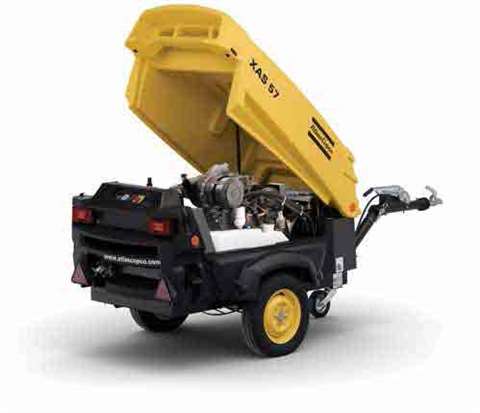 The new hardhat compressor enclosure is designed to eliminate corrosion problems associated with metal housings and to maintain the look, and hopefully the value, of the portable units. The enclosure is made of linear medium density polyethylene (LMDP), which is impact and crack resistant.
Earlier this year the first Atlas Copco portable compressors to feature the Hardhat option were launched - the XAHS 37, XAS 47 and XAS 57. From this month (September), the XATS 67, XAS 67, 77, and 97 models will also be available with the new enclosure. The XAS 37 Hardhat model is scheduled for introduction early next year. All the Hardhat models will also remain available with traditional enclosures.
According to Atlas Copco, the major market for the Hardhat option is Europe. Since their launch, sales of compressors with the Hardhat canopy have accounted for around 25% of the company's total sales, with the majority of those units being bought by rental houses.
Rental operations have been attracted by the Hardhat option as it maintains the look of the machine and is expected to produce a higher residual value. As Atlas Copco points out, one of the critical rental equations concerns cost of ownership, and while the Hardhat compressors have a higher purchase price, the increase in residual value is expected to lower the total cost over the life of the compressor.
Markets
The rental market is key when it comes to portable compressors, not just across Europe, but in many parts of the world. According to Atlas Copco Airpower's president, Geert Follens, sales of portable compressors into rental operations in Europe currently accounts for more than 70% of total sales - and that is growing. "Sales of portable compressors into rental operations across Europe, with the exception of perhaps The Netherlands and Germany, are increasing - it is a very healthy market,"he said.
As far as the wider world market for portable compressors is concerned, the total volume is thought to be somewhere around the 47000 mark, but, as Mr Follens added," that's the official figure, but I think the figure is too conservative."
For its part, Atlas Copco operates a multi-brand strategy when it comes to portable compressors - and, indeed, many other product lines within the group's divisions. In the US and other territories, for example, Atlas Copco has the Chicago Pneumatic brand, it has the Irmer+Elze brand in Europe, while in China it has the Liutech line. Recently the company has also introduced the Atlas Copco brand of compressors into China and these are being produced at the company's factory in Wuxi, China.