Hartl adds to range of attachments
The new HSS800 screen is the latest development in the field of attachment screens from Hartl.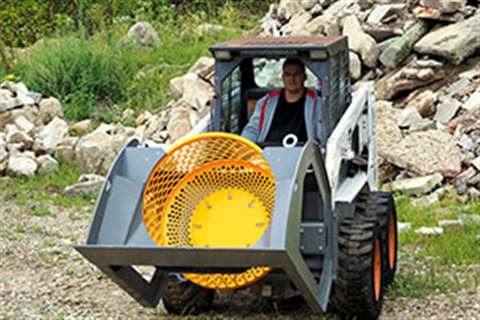 Specially developed for skid steers, wheeled loaders and tractors, it described as easy, flexible, and fast to attach. It transforms the respective carrier device to a mobile screening plant, for screening building debris or classifying aggregates.
The company said it avoided using complex components while still managing to optimise sieving capacity and minimising wear on the attachment.
Development engineer Georg Haberfellner said: "The unique and robust shape of the sieve frame reduces the force for picking up the material, which saves the carrier device used. But the highlight is the capacity of 600 litres.
"This is only possible by a smart hopper and inlet area, also known from the HCS series, in this compact design. Constant feeding and even more throughput result from this."
The HSS800 weighs 600 kg (1,322 lb) and has a screen area of 1.7 sq m (18 sq ft). The screen baskets are made of Hardox and the mesh widths can be selected according to customer demand and application requirements.