Haulotte China partners on vocational training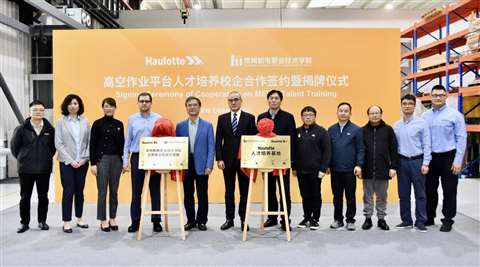 Haulotte China has partnered with a public education provider, offering training for individuals looking for careers in the MEWP industry.
The company recently signed an agreement with the Vocational Institute of Mechatronic Technology, which is located to the west of Shanghai in Changzhou, China, and is an affiliate of the official Education Department of Jiangsu Province.
The "industry-education integration" deal, for which a special signing ceremony was recently held, will see the organisations work together to train MEWP specialists and to promote the development of the access equipment industry.
It is also part Haulotte's efforts to further align with the industry growth strategy announced by the Chinese Government in 2021, which aims to speed up the development of "national strategic talents".
General Manager of Haulotte Shanghai, Harry Wang, described the need to train more skilled workers in the sector as "imperative", saying that the development of technical skills in the sector is one of its top priorities.
Zhu Ping, CPC committee deputy secretary of Changzhou Vocational Institute of Mechatronic Technology, said the institute recognized the "shortage of professionals in the MEWP industry and the demand of rental companies for excellent service engineer engineers".
He said that through all-round cooperation and being deeply integrated with each other, the organisations would complement each other's strengths and cooperate to train high-quality MEWP talents and highly skilled outstanding engineers."