Haulotte completes Aberdeen delivery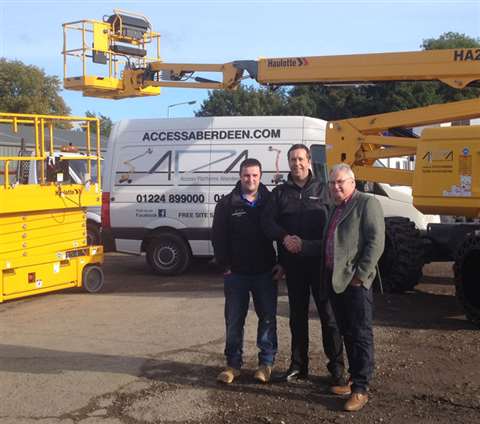 Access Platforms Aberdeen has taken delivery of the first four Haulotte HA20RTJ-Pro articulated booms in the UK.

The machines are each all fitted with Haulotte's secondary guarding system – ActivShield Bar and is the tail end of a larger order that included the new 46ft HA16RTJ-Pro diesel boom lift, the 40ft Compact 14 and 20ft Optimum 8 slab electric scissor lifts.
Access Platforms Aberdeen was established in 2005, to cover North East Scotland through two depots in Aberdeen and Elgin. Managing director, Rob Petrie said, "We have established a strong relationship with Haulotte during our 10 years of trading and we have been very pleased with the reliability and performance of their products. With our new HA16RTJ-Pro booms proving a great success, we are extremely happy to add the brand new HA20RTJ-Pro to our fleet. They weigh just 9,600kg and offer an excellent working envelope, four wheel drive, four wheel steer and an oscillating axle."
Haulotte UK account manager Ged Kelly said, "Access Platforms Aberdeen is a family business dedicated to assisting their clients efficiently, safely and with the highest level of customer service. Haulotte are delighted to have the opportunity to continue working with APA and to be able to add our latest range of RTJ booms to their growing fleet".