Haulotte expands 16m boom range
By Euan Youdale18 June 2020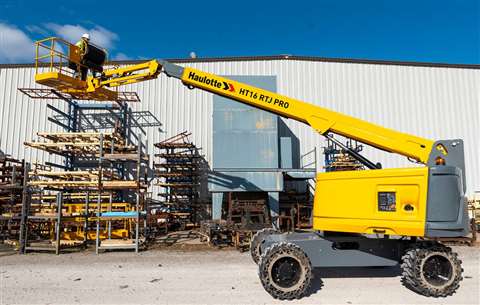 Haulotte has launched a new 16m working height rough terrain telescopic boom.
The diesel-powered HT16 RTJ O/Pro (HT46 RTJ O/Pro in North America) offers a basket capacity of 250kg (550 lb) and has a dual load option increasing the basket capacity to 350kg (770 lb).
The new model elevates to full working height in less than one minute and has a 360° turret rotation. The mechanical axle drive allows for the use of a smaller 24hp/18.5 kW, simpler engine, while maintaining the same performances as other RTJ booms in the range.
Thanks to this smaller engine, it eliminates the need for a Diesel Oxidation Catalyst (DOC). In Stage V-regulated countries, there is also no requirement to use a Diesel Particulate Filter (DPF).
Obstacles and slopes of up to 45% can be negotiated by the machine, which can also elevate on even surfaces with a tilt angle of 5°. The operator-controlled locking rear differential allows maximum traction in difficult rough terrain situations and proportional controls guarantee smooth operation and precise movements on the way up to the work area.
Haulotte adds that it is the only machine of its category featuring 4-wheel steer. In this mode, the turning radius is shortened, enabling the driver to manoeuvre in tight areas. Crab mode facilitates motion in all directions, making it easier to access the work area.
The controls cover and tray are made of ultra-solid composite material and pins are protected against corrosion. Its ergonomic control box with joysticks enabling proportional commands offers improved driving comfort: up to four movements can be configured.
Sensitive elements such as the steering cylinders, jib and cable channel are protected to avoid damage. All components requiring regular maintenance are easily accessible, making maintenance operations and damaged parts replacement simple and less time-consuming.
Haulott's Activ'screen, an on-board diagnostic tool, is also available, with all the functions being available on Haulotte Diag, the free mobile app that lets technicians conduct wireless machine configuration and diagnostics.