Haulotte Germany celebrates 25 years
By Euan Youdale10 October 2022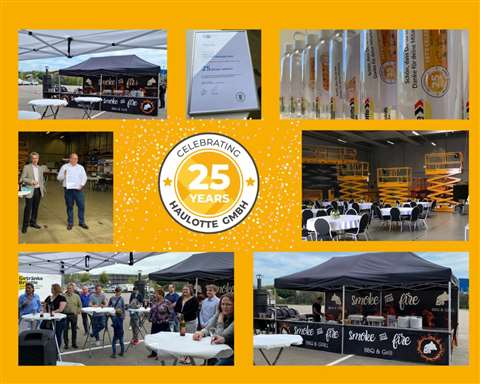 Haulotte GmbH has celebrated its 25th anniversary with an event for employees and their families.
The event to mark the German subsidiary's landmark year took place in September at its headquarters in Eschbach.
The party was organised by two employees, Andreas Deiser and Marco Schröter. Thomas Wegeler, general manager of Haulotte GmbH, commented, "It was a great pleasure for me to welcome so many employees and their families. It was also very touching that friends and former colleagues, some of whom are already retired, visited us to celebrate together with us."
The Freiburg Chamber of Commerce and Industry was also there to present a certificate to the Haulotte subsidiary.
Haulotte GmbH operates across Germany, Switzerland, Austria, the Czech Republic and Slovakia. Today, 37 employees are employed by the subsidiary, covering all areas of the business, including maintenance, training, troubleshooting and used equipment.
Wegeler said, "We're going into our next 25 years with more energy-efficient machines and geared to electric propulsion, being more connected and easy to maintain for maximum productivity. This ambition requires agility from all of us and a constant willingness to learn.
"Our customers expect us to be available on demand and to help them on site within one business day. Together we take on the challenge."
Swis milestone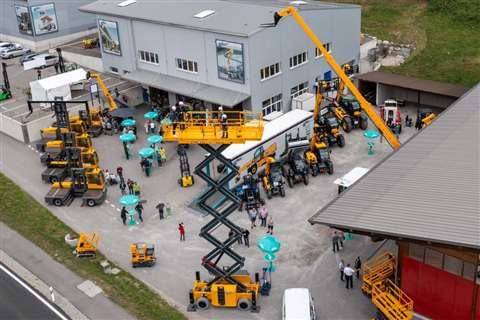 In August, Haulotte celebrated another milestone, the 60th anniversary of Arbor, the manufacturer's distributor in Switzerland for the last five years.
In addition to a party at its premises, which the Haulotte team attended, Arbor offered a technical program combining conferences and product tests.
Wegeler presented a range of machines at the event, including the HS18 E PRO, SIGMA 16, and the new Compact range. The company also highlighted its Activ'Screen and Activ'En