Heavy lifter heads to China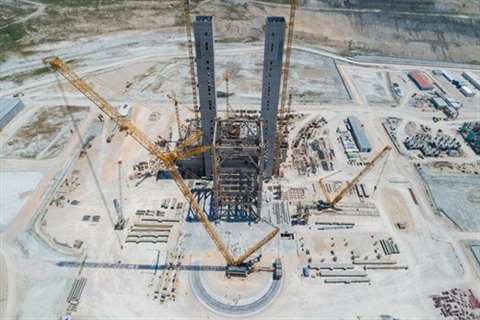 September 2018: The Sarens-Sinotrans JV (SSJV) is pleased to be bringing one of the largest cranes in Sarens' fleet, the CC8800-1, to the Chinese market. This powerful 1.600-tonne capacity crane and its matching boom booster arrive in late September.
Together with Sarens' extensive fleet of SPMTs, it will be ideally positioned to serve a variety of clients in China, from module yards and oil and gas projects to offshore wind farm operations.
The CC8800-1 is not making the big move alone, however: the powerful CC6800 crane will also accompany it to its new location in China. These two powerful cranes work well in tandem, especially when it comes to lifting some of the world's heaviest loads.
SSJV is bringing these powerful new cranes to the Chinese market at a time of high growth and high potential. Currently, China's chemical industry is experiencing a recovery, and more than 10 large-scale plants are being constructed. Meanwhile, Chinese module yards are supporting the construction of world-class LNG and chemical plants.
Furthermore, the Chinese government is taking steps to increase clean energy usage in the country. There are currently 10 third-generation nuclear facilities either under construction or pending approval, and over 1GW of wind power projects have been approved in coastal areas.
But China's surge of growth is not limited to its borders alone: its One Belt, One Road initiative is catalysing rapid growth well beyond its geographic boundaries, impacting other countries that have seen an influx of Chinese investment in their infrastructure projects.
The SSJV is proud to be applying Sarens' extensive experience in heavy lifting and engineered transport to a rapidly growing market, and is committed to providing personalised solutions to Chinese clients.
"The growth of module yards, petrochemical industry, offshore wind industry, and other construction projects in China create opportunities for the introduction of the CC8800-1 to this market," say SSJV's CEO and Deputy GM. "The strength of the Sarens brand and history will expand opportunities for Chinese clients and meet a growing need for crane rental services, heavy lifting, and engineering transport in this market."