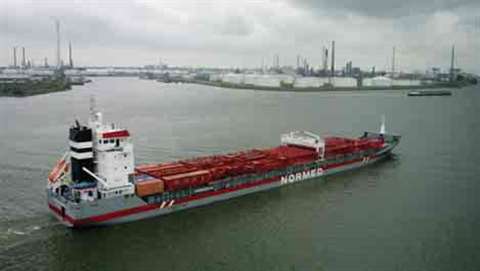 Dutch specialist heavy lifting contractor Mammoet packed one of its modular PTC cranes into containers and took it to Corinth, about an hour from Athens in Greece, to work on the Motoroil Hellas 2005 Expansion Project.
The PTC was loaded at Mammoet's heavy lift terminal in Schiedam, the Netherlands. Each of the containerised components weigh less than 30.4 tonnes so no special transport is needed. For this job the crane to be transported comprised 20 ft containers (44 of them), 40 ft containers (40 of them), plus a variety of loose equipment. In total it was enough to fill a cargo vessel.
Ten days after setting sail from the Netherlands the vessel arrived in Greece at the Port of Elefsis, where the containers and equipment were unloaded in two days and then transported to the lay-down area. A total of 12 days were required to erect the PTC in this configuration. It took three days to assemble the ring, then four days for the upper structure, two days to erect the superlift mast, and a further three days to erect the main boom.
Then came the installation of the heavy refinery vessels. The two reactors were supplied on pontoons from Porto Maghera in Italy, where Mammoet Italy had loaded them one week earlier. A set of two 20 axle lines of SPMT were used to transport the reactors from the pontoon to the refinery site. The 2 km journey took two days and to get the vessels within reach of the crane meant negotiating a route restricted by having to pass under electricity and telephone cables, as well as under a railway track.
For this job the PTC was erected with 85.3 m main boom and the 600 tonne capacity Demag CC 2800 crawler, which served as the tailing crane, was fitted with 48 m main boom.
First of the reactiors to arrive was the heaviest one, which weighed about 850 tonnes, followed by its smaller brother, which weighed around 750 tonnes, the next day. Both reactors were placed on their foundations within two days. On completion of the job the PTC was dismantled and returned to the Port of Elefsis, ready to go to its next job.