Helsinki tower competition
By Sandy Guthrie25 January 2017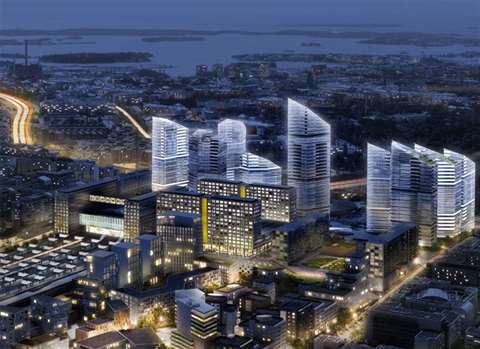 The Finnish State and City of Helsinki are organising an architectural competition for the design and construction of the Central Pasila Tower Area located in Helsinki, Finland.
The competition is to choose a plan, which includes 150,000 to 200,000m2 of residential, office and commercial floorspace, which can serve as a basis for zoning and implementation.
The aim is also to find a buyer and executor for 40,000 to 65,000m2 of a Start-Up Area, located in the western part of the Tower Area.
The competition is divided into two phases. In the first, contestants will present a draft plan for the entire plan area. The organisers said the emphasis of evaluation of the proposals will be on the Start-Up Area and the West Area. There will be a shortlist of between two and four contestants with the best proposals.
Candidates selected for the second phase will draw up a more detailed plan for the West Area.
The organisers said the winner of the competition's selection would be based on city planning criteria. They said the economic operator who had drawn up the best design solution in terms of quality will have the right and obligation to purchase the building rights of the Start-Up Area at unit prices specified in the competition programme, and implement the complex according to its plan.
During the competition, it will also be possible that the organisers and the winner of the competition agree to undertake negotiations for the implementation and redemption of the properties located to the south of the Start-Up Area, after starting construction of the first tower in the Start-Up Area.
The Central Pasila Tower Area is located in what the organisers call Finland's most accessible area – a traffic hub adjacent to the Pasila train station.