Hermans buys Enerpac gantry
By Christian Shelton15 September 2017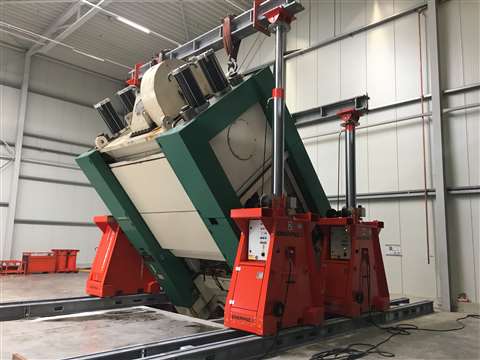 Venlo, Netherlands-based industrial equipment moving specialist, Jozef Hermans Industrial Movers, has bought an Enerpac SL300 telescopic hydraulic gantry. The SL300 completes the company's range of four Enerpac gantry lifting systems for lifting jobs ranging from 100 tonnes to 400 tonnes (SL100, SL200, SL300 and SL400).
According to high-pressure hydraulics specialist Enerpac, its gantry systems provide a cost-effective alternative to crane structures for internal factory moves. They need relatively little space and there is no need to undertake costly and time consuming structural changes to the building for crane access, it added.
"Over 80 per cent of our moves are within a factory and so the space needed for the lifting system is critical," said Jos Hermans, director at Jozef Hermans. "The SL300's smaller footprint is a significant addition to our capability for internal moves. It increases our competitive edge, allowing us to handle equipment moves where previously we would have struggled to implement the lift in the space available.
"Importantly, the SL300, and other Enerpac gantries, are electrically driven, which is essential when you are operating inside a factory as there are no fumes generated by the lift system. Also, the wireless control allows us to view the lift from different positions giving us complete control where space is tight." This is particularly useful as Jozef Hermans often moves machines in their entirety, avoiding the need to disassemble them, said Enerpac. This results in a faster and more cost-effective move.
According to Enerpac, the SL300 uses a 610 mm track gauge for loads up to 3,000 kN. It claims this is the industry's highest lifting capacity for a narrow track gantry with an integrated self-propelled drive system. For increased safety, the SL3000's hydraulic power pack and hoses are completely enclosed.