Hertz Dayim orders 93 Genies
By Euan Youdale07 February 2020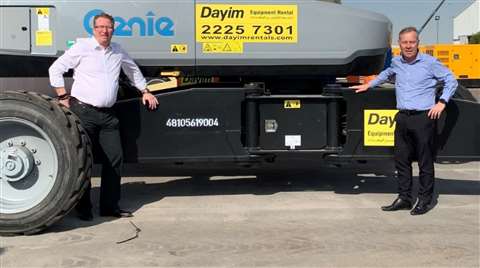 Middle East-based rental company Hertz Dayim has ordered 93 hybrid, electric and diesel-powered telescopic and articulating boom lifts, scissor lifts and vertical masts from Genie.
Andy Cater, general manager Hertz Dayim, Middle East and North Africa, said, "We are one of the fastest growing rental companies in the region. Our investment in the last decade has ensured that Hertz Dayim has one of the youngest, and most technologically advanced equipment portfolios, across the Gulf."
Chris Brocklehurst, country director – Kuwait at Hertz Dayim said, "Backed by our research on customer requirements within Gulf Cooperation Countries (GCC), we see UAE and KSA countries and, Bahrain and Kuwait as markets with strong potential.
"With over 10 years of equipment rental expertise in the Gulf region, our investment over the last decade has always focused on offering high quality rental equipment and services. Following a long and in-depth study, we chose Genie for its niche hybrid and electric technology, as well as the superior working envelope of the Genie SX-180 boom and the Genie Xtra Capacity boom lift line."
The new Genie Lift Connect telematics solution, that is now fully operational in UAE and KSA, was also a key factor in influencing the purchase.
Gary Cooke, Genie regional sales manager, Terex AWP for the Middle East at Terex Equipment Middle East, said, "Hertz Dayim has an excellent reputation. We are proud and thankful for Hertz Dayim rental's confidence in Genie equipment and our team, and we look forward to supporting the success of its expansion in Bahrain and Kuwait in the long-term."
Hertz Dayim's equipment deliveries are ongoing and will be completed by the second quarter 2020.