Hiab HiConnect
By Christian Shelton28 September 2017
Swedish on-road load-handling equipment provider, Hiab, part of Finnish conglomerate Cargotec, has launched the Hiab HiConnect platform, which adds a high degree of connectivity to its load handling equipment. This, Hiab said, will provide users with critical insights into their business and reveal ways in which value can be unlocked.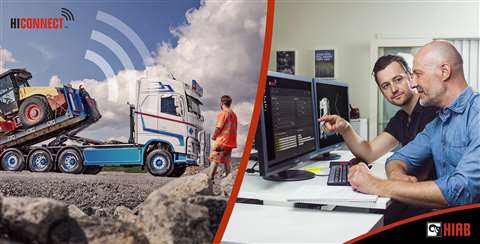 The HiConnect data platform provides users with real-time information about equipment utilisation, operation, and the condition of their Hiab loader cranes, enabling performance to be optimised and unnecessary downtime avoided. HiConnect presents the real-time insights via web-based dashboards with clear and simple overviews that provide status monitoring, service planning and help improve the operation of each unit and operator, Hiab explained.
Hiab will structure the HiConnect service offering by introducing different tiers of business-critical insights adapted to specific business needs and fleet sizes. It will first be offered as a retrofit solution for selected existing Hiab loader cranes in the USA, UK, France, Netherlands and Germany in 2017. In 2018, the product offering will expanded and will be available to other markets, said Hiab.
"We are very proud to be the first in our industry to bring this comprehensive suite of connected solutions to the market," said Hiab president, Roland Sundén. "As a pioneer in load handling, it is part of our mission to continue shaping the future of load handling… This upcoming initial market offering is just a start. Early adopters will now receive key insights and functionality, but will also be part of further developing the HiConnect platform based on their customer needs."