Hidromek shows new H4 series excavator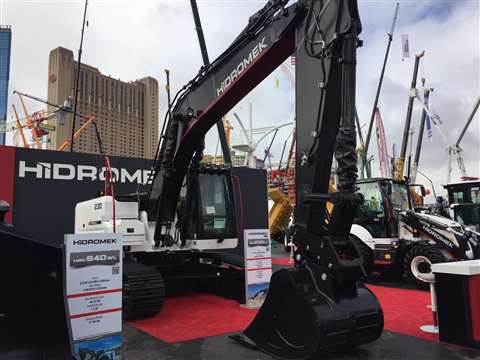 Construction equipment manufacturer Hidromek has brought its new H4 series excavator to ConExpo's Festival Grounds.
The Turkish company, which has more than 45,000 machines in operation in over 100 countries, is displaying its HMK 230 model – one of five currently available in the H4 series.
The tracked machine, which is fitted with a 4-cylinder Isuzu engine, features right side and rear cameras, plus LED headlamps that are said to improve visibility at night.
Described as 'stand out' by Hidromek, the manufacturer said its H4 series was produced to be faster and more productive, with maximum safety features.
The H4 series comprises the HMK 145 LC SR, HMK 310 LC, HMK 390 LC HD and the HMK 500 LC HD models.
The company is also showcasing a number of loaders, including a HMK 62 SS mini backhoe loader, HMK 102 B ALPHA backhoe loader and its HMK 640 WL wheeled loader.
According to Hidromek, the backhoe loaders have increased efficiency and feature ergonomically designed cabs with wide rear view.
An HMK 600 MG motor grader and HMK 110 CS soil compactor are also on display at the company's stand (F7526).