High Access adds to fleet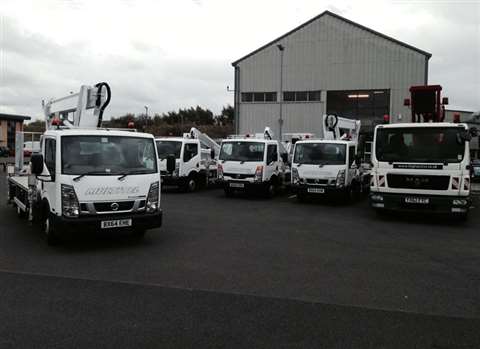 Manchester-based High Access Maintenance has added four new Multitel platforms mounted on 3.5 tonne Nissan Cabstar chassis cabs to its fleet.
The specialist high-level façade maintenance company has added 18 new vehicles to its fleet in recent months, with the new Multitel platforms coming from Access Industries.
The new fleet additions include a Multitel MX210, which offers a working height of 21 m and a 9.8 m outreach. The platform has a lift capacity of 200 kg. High Access has also added a Multitel MX 250, which offers a 21 m working height, a 12.2 m outreach and a maximum payload of 225 kg. The unit is mounted on a 3.5-tonne GVM chassis cab. The High Access unit has been fitted with a water transfer line from the base to the cage for pole cleaning and has automatic outrigger levelling.
Completing the purchase order are two Multitel MJ 201 telescopic booms. These offer 12.6 m of outreach and a 225 kg cage capacity.
"We have been looking at the Multitel product for several years and in some ways it is surprising what we have not purchased before now," said Neil Bethell, managing director, High Access. "It is a very well made, innovative product that we belive offers a very good investment/return ratios."