High capacity scissor launch from Snorkel
By Euan Youdale15 April 2013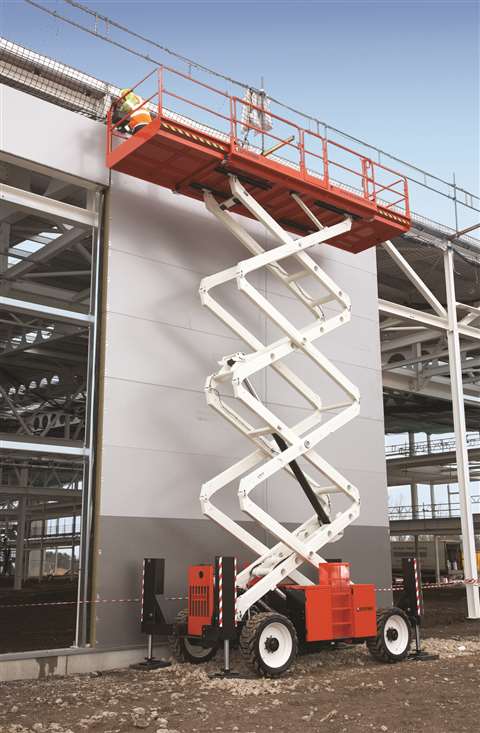 Snorkel has unveiled the first in new series of high capacity rough terrain scissor lifts at bauma.
With powerful lift and drive capabilities, the Snorkel S4390RT is ideal for construction applications, said the company. Preliminary specifications are for a machine with 13.1m (43ft) maximum platform height. Fitted with twin 1.3m (51ins) deck extension, these provide a large working area of 1.82m x 6.60m (6ft x 21ft 8ins) and a safe working load of 680kg (1,500lbs).
The addition of high capacity rough terrain scissor lifts completes the Snorkel product range in all key segments. Snorkel already produces more than 35 machines, including towable booms, push-around lifts and mast lifts, as well as self-propelled scissors and booms.
Snorkel is also launching another two new global products at Bauma 2013 - and updating one of its most popular machines.
The S3970RT is the third product in Snorkel's existing compact rough terrain scissor family. Built on Snorkel's proven SRT chassis, the S3970RT provides a maximum platform height of 11.5m (37ft 8ins) but is only 1.8m (5ft 10ins) wide and 3.3m (10ft 10ins) long. It is designed for working in confined spaces, such as in between buildings.
Snorkel is also further enhancing its leading range of low level access platforms with the S1030E self-propelled mini-scissor lift. Providing a 3m (10ft) maximum platform height, the battery-powered S1030E is still lightweight enough for almost any floor with load-bearing restrictions. It can be driven at full height, delivering increased productivity and efficiency benefits over push-around low-level access platforms, said the company.
Snorkel is showcasing the first prototype at Bauma to gather feedback from Snorkel distributors and key customers.
Also in the low-level access sector, Snorkel has enhanced its M1230E 3.6m (11ft 11ins) platform height self-propelled mast lift with a 500mm (20ins) roll-out deck extension. This optional extra extends the platform size to 1.46m (58ins), providing additional reach without the need to move the machine.