High volume screening from McCloskey
By Lindsay Gale25 March 2008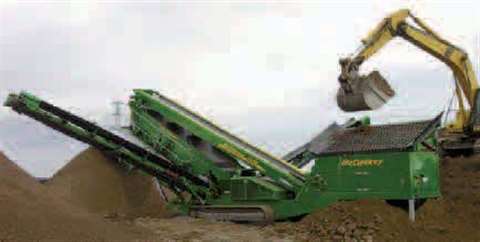 The new S190 tracked screener from McCloskey International is a vibratory flatdeck screening system designed for high volume production.
It features a 5 ft (1.5 m) by 30 ft (6 m) 'high energy' screening box that has been engineered to allow the steeped screening angles in the industry for any portable plant of similar nominal size. Its adjustable screening angles, combined with increased vibratory power and a large effective screening area of 190 ft2 raise maximum throughput to new heights.
The S190 also features greater control to fine–tune the plant to specific applications, such as five settings for the screen box angle from 20 to 30º, the screen box has adjustable vibration stroke from 6 mm to 10mm, and shaft speeds are adjustable from 950 to 1130 rpm. Productivity is enhanced by features that are intended to minimise downtime for travel, set–up and service. 'Travel–out' guarded walkways are fixed in place and require no folding or disassembly for transport. It is available with an optional roll–in bogie for highway travel without requiring a float, and is also available as a tri–axle wheeled model.