Hill for London project
By Sandy Guthrie24 June 2016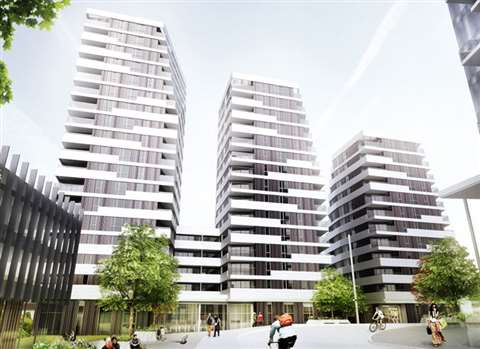 Planning permission has been granted for a £100 million (€123.8 million) regeneration scheme in East London, UK, which will create 300 new homes and a new 1,900m2 commercial space.
UK housebuilder Hill is to undertake the scheme at Lea Bridge Road in East London, after winning planning approval from the London Borough of Waltham Forest.
The residential-led mixed-use development will include 62 affordable properties.
Designed by Pollard Thomas Edwards Architects, the scheme comprises three residential towers set around a landscaped central courtyard, with plus the ground floor commercial space and a gym.
The development is adjacent to the recently re-opened Lea Bridge Rail Station. The station first opened in 1840, but closed in 1985 to re-open in May 2016.
The site will also benefit from new cycle routes due to be created through Transport for London's Mini Holland scheme, which aims to increase cycle travel through the borough.
Andy Hill, chief executive at Hill, said, "East London remains one of the capital's most exciting areas for regeneration. We're tapping into this growing momentum, bringing homes, offices and a host of amenities to an area which previously suffered due to a lack of investment."
Hill will start work on site in autumn 2016, and will complete the development in the summer of 2019. The first apartments are expected to be for sale in early 2018.