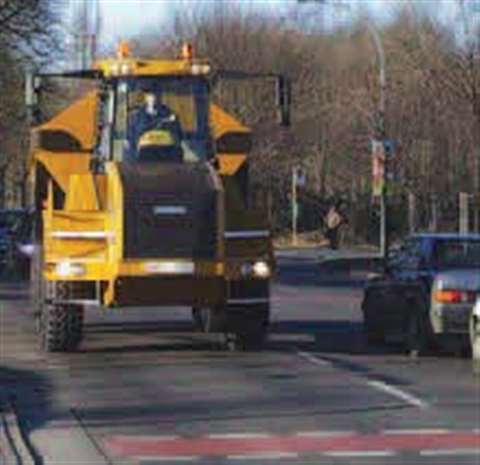 The hillhead quarrying and recycling exhibition takes place near Buxton, UK at the end of this month. The event, which comes around every two years, is held Tarmac's Hillhead Quarry, and this choice of venue allows new equipment to be demonstrated as well as being seen on static displays. With more than 400 stands sold, exhibition space in excess of 55000 m2, and visitor numbers expected to exceed 15000, the show looks set to be a success.
With so many international exhibitions having already taken place this year – SMOPyC in Spain, ConExpo in the US and most recently Samoter in Italy – there are unlikely to be many genuine new machine launches at Hillhead. However, the event will certainly be the first time that many equipment buyers in Northern Europe will have seen this year's new machines 'in the iron'.
DISPLAY DETAILS
Extec will have a number of exhibits that should prove of interest. Pride of place will go to the new E7 heavy-duty tracked open flow screening and stockpiling system. Purpose built for the recycling and quarrying industries, the E7 has been developed over the last 18 months.
Also on the stand will be the C12 and C10 tracked jaw crushers. These incorporate a vibratory feeder with automatic control to regulate feed supply into the crusher and a hydraulic adjustment system to regulate product size. The machines also feature reverse crushing action to clear blockages and a high crushing speed. Extec will also be showing its S-Series mobile screening systems.
Terex Powerscreen will be using the Hillhead event to premier two new high-capacity dry screening plants, the Warrior H3S (which will be demonstrated alongside its smaller cousin, the Warrior 1400) and the Chieftain 2100 triple deck unit. On static display will be six other Powerscreen machines, including another new model – the Powershredder 2400, which is the largest in the company's range.
The Terex stand will feature a TerexO&K RH30-F excavator. With an 85 tonne operating weight, this machine is suitable for loading 30 to 65 tonne trucks with its standard 5,1 m3 bucket.
WHERE: Hillhead Quarry, Harpur Hill, Buxton, Derbyshire (In the Pennine hills, 30 miles south west of Manchester, UK)
Three Fintec machines will be on display at this year's show – the F640, F1107 and F1080. The F640 is the latest in the Fintec range of track-mounted screens. This direct-feed machine is fitted with a steel apron feeder and is suitable for a range of contractor-type applications. Fintec, in partnership with Sandvik, has experienced success in UK and Ireland with sales of the Fintec 1107 jaw crusher. Fintec will also be launching its new F1080 Sandvik/Fintec cone that will feature an allin feed arrangement together with a range of other features that will be unveiled at the show.
Atlas Copco's stand will feature the company's new ROC D7 RRC radio remote control drill rig alongside the well-established L6 and L8 rigs.
Meanwhile, sister Terex company Pegson will be showing new additions to its range of crushing equipment in the shape of the 1165 HA Premiertrak, the Metrotrak HA and the 1412 Trakpactor, which will be operating in the demonstration area. The company will also be operating a display producing three sized product stockpiles using a 1180 Premiertrak feeding a 1300 Metrotrak which in turn will feed a Powerscreen Chieftain 2400 dry screening unit.
The Terex stand will of course feature its familiar articulated and rigid-framed dump trucks and excavators, but a new sight will be its range of industrial wheeled loaders, which were added to the fold when Terex acquired Kaeble last year. The SL16, SL18G, SL22 and SL28B wheeled loaders that will be on show feature the company's load stabilising system, air conditioning, parallel-lift loader arms and hydraulically damped tilting cab.
These machines are designed for down-the-hole (DTH) drilling up to 165 mm in diameter and 54 m deep. Also on display will be a range of construction tools and hydraulic breakers, as well the XRVS466 and XAMS286 portable compressors.
Ingersoll-Rand will also be exhibiting new compressors at Hillhead, with three models from the 7/170 family. The 7/170, 10/125 and 14/115 can deliver between 11,3 and 17 m3 of air a minute at pressures of 7, 10,3 and 14 bar. These performance levels make them suitable for powering breakers and other tools, as well as providing air for drilling, sandblasting and paint spraying.
Sandvik Mining and Construction's display will include Stepdeck modular screening media system, along with its new intelligent control system for mobile crushers. The hardware on display will include a Hydrocone H4800 cone crusher from Sandvik Rock Processing, featuring the company's ASRi crusher control system, which is designed to optimise crusher utilisation.
On the drilling side, the company will show its Titon 600 DTH rig, for 110 to 190 mm diameter holes. Key features include a spacious ROPS/FOPS cab with air suspension seat conditioning/heater, CD radio and electronic angle/depth measurement instruments.
The company will also be demonstrating its SimQuarry software, which can be used to model full quarry performance over a given time period, allowing owners to optimise layout, fleet, drilling, blasting, loading, hauling and many other parameters, to help achieve the minimum cost per tonne.
Among the full line manufacturers taking part is Liebherr, which will exhibit two new machines. The R 954C Litronic hydraulic excavator is a 50 tonne machine with a heavy-duty undercarriage, a 6,7 m heavy-duty goose-neck boom, a digging force of 244 kN and a breakout force of 307 kN. Also on show will be a new dozer in the shape of the PR 724, a 19 tonne fully hydrostatic machine with electronic drive control. A 70 tonne R 946B Litronic excavator will also be operating in the demonstration area.
Komatsu machines will be shown by its UK distributor, Marubeni-Komatsu (MKL). The demonstration area will see a mass excavator version of the PC450LC-7 alongside the new HM400-1 articulated dump truck and a PC340LC-7 excavator fitted with an FRD hydraulic breaker. Also new, but on static display, will be a material-handler specification of the PW220-7 wheeled loader, complete with hydraulic lifting cab, a WA430-6 wheeled loader, a WH716 telehandler, an HM300-1 dump truck, along with FRD hydraulic attachments.
Caterpillar dealer Finning UK will be showing a range of the company's new quarrying machines, including the 345C and 365C excavators and the 988H wheeled loader. The excavators compete in the 45 tonne and 65 tonne weight classes respectively, while the 988H can be fitted with a bucket as large as 7 m3.
JCB's stand will include its new 21 m high reach demolition boom, designed for use on the JS330XD excavator, and the company plans to follow this with a high-reach boom for its 45 tonne excavator later in the year. JCB will also be presenting a Wastemaster version of the 456 wheeled loader.
Some of the major manufacturers will be represented by their UK dealers, as is the case with Hyundai. Using the exhibition to underline Hyundai's growing importance in the UK market, Merriman will be exhibiting a selection from the latest Dash-7 range excavators and wheeled loaders. Also on show will be the new Robex R55-7 mini excavator.
Hyundai also supplies excavators to Bell in the UK, which sells them through its own network and under its own brand. The company's stand at Hillhead is therefore expected to feature a number of 'Bell' excavators alongside the company's more familiar articulated dump trucks.
Hydrema's stand will feature its 922C 2.55, an articulated dump truck designed to be legally driven on public roads. The machine's key feature is its 2,55 m width, but otherwise it is identical to Hydrema's standard 922C. Two models of the machine are available, a 50 km/h version and a 30 km/h version. In Scandinavia only the 30 km/h version will be approved for on-road registration. Also new is the 912C series 2 truck, which has been updated with new Carraro axles, a ZF WG115 ERGO Power transmission and a reinforced engine bonnet.
Manitou will be unveiling its new heavy duty MHT10160L telescopic handler, which boasts a massive 16 tonne lift capacity and a maximum lift height of 9,5 m. A range of heavy-duty attachments are a available to complement this impressive performance, including forks, 14 and 16 tonne winches, 14 and 16 tonne crane jibs, buckets and tyre grabs. In the quarrying industry, the MHT series can be used for the maintenance of dumper trucks, excavators and drills, performing tasks such as changing cylinders, engines and tyres.
Thwaites will expand its 'compact family' of machines with the debut of two new products at Hillhead. The 3 tonne HiSwivel can swivel its payload through 180° and discharge at 1,8 m. The 1 tonne PowerSwivel is designed to access confined sites and accurately place its load. Thwaites will also be showing examples from their comprehensive range of site dumpers.
Kubota, meanwhile, will be showing examples from their range including the new U15-3, thought to be the only 1,5 tonne zero tail-swing machine available in the UK. Other machines on display include the 2,6 tonne KX61-3 and 2,8 tonne KX71-3 models. The new RTV 900 all-terrain utility vehicle will also be on display.
The Bobcat stand will feature the company's new S205 skid- steer loader, which has a rated capacity of 930 kg, and a tipping load of 1,86 tonnes. Also on display will be the 430 zero tail swing excavator, a 3 to 4 tonne machine. This machine features load-sensing hydraulics, which are common on much larger excavators, but are a rare luxury on machines in this lower weight class.
Montabert, will be exhibiting its Silver Clip range of hydraulic breakers, which are now available for use with 700 kg to 7 tonne carrier excavators.
One of the key features is the ability to 'clip' a bucket directly to the end of the breaker, making it much quicker and easier to change between breaking and excavating duties. A vibrating plate is also available, which clips onto the breaker tool, instantly converting it to a compactor.
The company will also be exhibiting a new version of V1600 'Evolution' breaker for 22 to 35 tonne excavators. Improvements to the unit include heavy duty suspension and a 'smooth-start' system, offering advantages particularly in secondary breaking and concrete demolition, as well as general excavation.