Hilti celebrates 75 years
By Helen Wright08 September 2016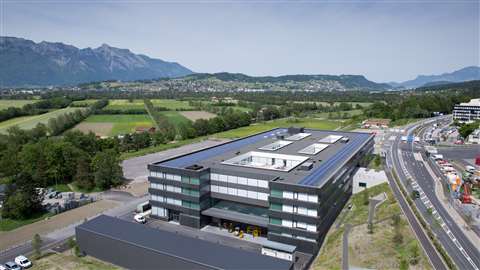 Manufacturer Hilti, whose products include premium power tools and site positioning equipment, is celebrating 75 years since the company was founded.
In 1941, engineer Martin Hilti and his brother Eugen established Hilti Maschinenbau in Schaan, Liechtenstein, and since then it has grown to a global corporation with over 23000 employees in more than 120 countries.
Hilti said its success story had been characterised by constant renewal and change but also by stability and continuity. It said its direct sales approach has been a key part of ths, creating customer proximity and continuing to drive the company's performance.
Martin Hilti's son, Michael Hilti, became CEO in 1990 and served as chairman of the board for 13 years, remains a member of the board of directors. He said, "We are well positioned at all levels to carry our success into the future.
"We are close to our customers, highly innovative and we have a first-class offering. Our strategy focuses on sustainable value generation and we have a sound ownership structure. But most of all, we have a highly professional global team that devotes all its energy to ensure the company's success."
In 2015, Hilti inaugurated a new and modern innovation center for more than 450 employees at its headquarters in Schaan.
Its latest new products include the BX 3-ME battery actuated fastening tool. The tool is the first one in its category that generates enough power to set fasteners and nails into hard surfaces such as concrete or steel. The user benefits from a high degree of comfort, low noise, a slight recoil and dust-free work.
In addition to a wide range of premium power tools, site positioning equipment and fastening tools and other devices, Hilti also offers a comprehensive range of extra services. These include Hilti Fleet Mamagement – a service model targetting large contractors and rental companies; in essence any companies which regularly purchase tools and use them frequently for prolonged periods (years).
Through Hilti Fleet Management, a fixed monthly charge covers all tool, service and repair costs. The idea is to simplify financial planning for customers, while all tools in the fleet are replaced at regular intervals with tools of the latest generation, thus helping to avoid downtime and ensuring compliance with the latest safety standards.
Hilti said rental companies, including big names like HSS Hire in the UK and Loxam in Frane, were also taking advantage of the Fleet Management product as a way to add Hilti tools to their fleets, but offset the costs of maintenance and repair.