Hilti's BIM-enabled construction robot
By Andy Brown09 November 2020
Hilti has introduced a semi-autonomous mobile ceiling-drilling robot to help mechanical, electrical and plumbing (MEP) contractors increase productivity and safety.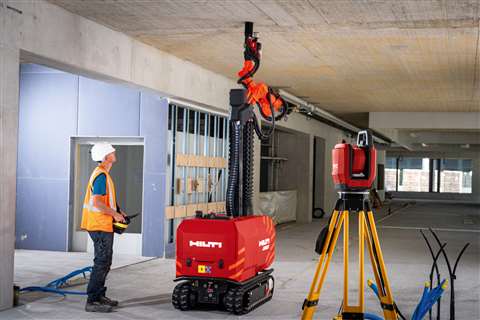 Reported to be Hilti's first robot, Jailbot executes its tasks based on building information modelling (BIM) data. The robot is cordless and locates itself accurately indoors, drills the holes and marks them according to the trade.
Jaibot is designed to assist tradespeople in physically demanding, repetitive installation tasks such as drilling numerous holes overhead for many mechanical, electrical or plumbing installations. It is navigated by the worker via remote control and uses reference data from a robotic total station, the Hilti PLT 300. Holes within reach are drilled automatically.
"The productivity of the construction industry has been lagging behind other sectors for years. Margin pressure and shortages of skilled labour are already facts of life in our industry and make it increasingly difficult to overcome productivity shortfalls," said Jan Doongaji from Hilti.
"But leveraging the opportunities offered by digitisation will compensate for it. We do this by intelligently linking processes, teams and data. With Jaibot, and in close collaboration with our customers, we are further stepping towards realising the efficiency that digital transformation can and will bring to construction sites."
Hilti says that this new robotic solution is a further step toward the digitisation of construction sites.