Hilti to unveil 'world's first' cordless breaker
By Thomas Allen17 February 2020
Hilti will be introducing what it claims to be the world's first cordless breaker, the TE 500-A36, at this year's ConExpo.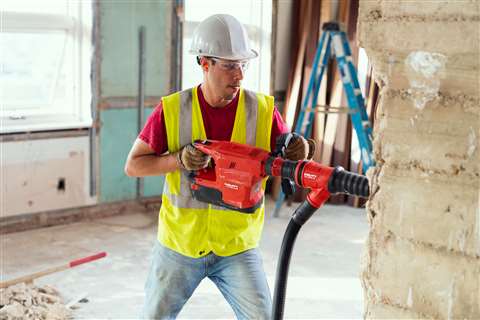 The exhibition, which is the largest construction equipment trade show in North America, will be held in Las Vegas, US, from 10 to 14 March, 2020.
Engineered specifically for breaking concrete and masonry, it offers the power of a corded breaker with the added benefit of greater mobility. The breaker is powered by a 36V 9ah lithium-ion battery and a high-efficiency brushless motor.
Rafael Garcia, Senior Vice President of Marketing at Hilti North America, said, "We're at the forefront of delivering cordless tools strong enough to take on the most challenging applications without sacrificing performance or ergonomics."
Displayed on stand S63207, the tool includes Hilti's Active Vibration Reduction (AVR) technology, which reduces the tool's triaxial vibration by more than 30% compared to models from competitors, according to the company.
It can be paired with the manufacturer's VC 75-A22 cordless backpack vacuum system for both a cordless and dustless solution.
The TE 500-A36 will be available throughout the US and Canada.
The launch of this cordless breaker comes shortly after Hilti introduced its first cordless chipper, the TE 300-A36, which was launched at World of Concrete 2019.