Himoinsa launches 1MW genset
By Thomas Allen13 July 2020
Spain-based manufacturer Himoinsa has introduced its new 1MW HRYW-1275 D5/6 dual-frequency genset.
Said to offer competitively low operating and maintenance costs, the new model consumes 184 litres of fuel per hour at 75% load.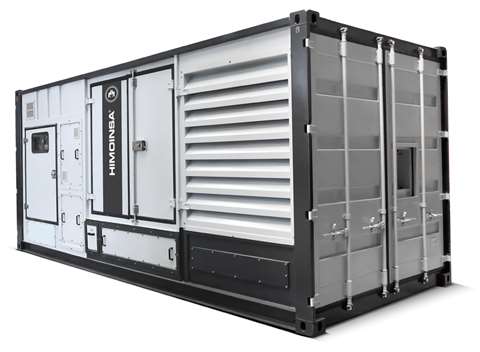 Himoinsa became part of the Yanmar group in 2015, and this is the first heavy-duty Himoinsa genset to have a Yanmar engine. The AY40L-ET engine that powers the genset was designed collaboratively by Yanmar and Himoinsa.
Yanmar's engines, turbos and power systems are designed to work at the Best Efficiency Point (BEP) in both variable and fixed load applications; "This allows the best efficiency in fuel consumption, ensuring a lower OPEX than other options on the market," says Miguel Ángel Ruiz, Global Engineering and Development Head at Himoinsa.
The generator also has a variable speed remote cooling system that was jointly designed by the Yanmar and Himoinsa development teams.
The HRYW-1275 D5/6 genset comes in a 20ft container and has a 1,000 litre capacity fuel tank.
Designed for continuous work for long periods, the new unit offers prime rated power (PRP) of 1,278 and 1,303kVA at 50 and 60Hz respectively.
The model also incorporates a parallel control unit, which allows the genset to be connected to other generators. The control unit has its own access door.
Ease of transport and maintenance are also key to the design of the new model.
The container in which the genset is housed is leak-proof and certified for sea transportation. It has multiple external assess points for maintenance tasks, and the unit's wide doors are located next to the main accessories and components inside. Internal LED lighting illuminates the workspace.
A coolant pre-heating system with a built-in pump, a water separator filter or an oil refill kit can also be included as optional extras. To lengthen maintenance intervals, the unit can be fitted with an automatic crankcase oil filling system. Remote monitoring is also available as an option.
Get a full update on the genset rental market in the upcoming July-August issue of International Rental News.