Hird expands with Maeda cranes
By Laura Hatton11 May 2015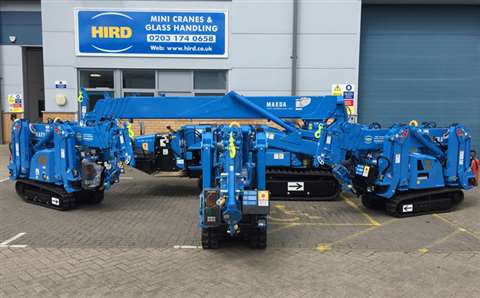 UK-based specialist lifting company Hird has expanded its fleet with new Maeda mini crawler cranes.
The order includes a fleet of new Maeda 285-2 and Maeda 405 spider cranes and a fin lifter glass vacuum. The Maeda MC285-2 has a lifting capacity of 2.82 tonnes and can be fitted with an optional 850 kg searcher hook. The Maeda MC405 spider crane has a 3.83 tonne lift capacity. When fitted with a fly jib working radius is 16 metres. It also has a useful pick and carry function with a maximum load of 500 kg.
Phil Hird, Hird managing director, said, "This significant investment is driven by healthy demand from our clients, and innovative ideas being generated by Hird. Clients are wanting more precise lifting solutions for technically challenging tasks, especially in the construction industry, and we aim to keep up with that demand.
"Mini cranes are increasingly coming into their own for lifting solutions that require flexibility and operation in confined areas, especially where working height is limited. Our aim is to satisfy all glass lifting requirements. As construction methods become more sophisticated and glass becomes a more integral part of building structures, specialist vacuum lifters are needed for particular roles. Our new fin lifter is one such machine."
Hird has also added a Kappel vacuum fin lifter for glass. It can be extended to 9 m and has a capacity of 1.8 tonnes. It provides 210 degree lockable rotation and has remote tilting from vertical to horizontal positions. For additional safety, it has new 4-circuit technology, with four vacuum reserve tanks and four non-return valves, a company spokesperson said.