Hisingsbron Bridge project
By Christian Shelton05 December 2019
On the west coast of Sweden a vertical-lift bridge, called Hisingsbron Bridge, is currently being constructed. Once completed the bridge will connect Gothenburg with the island of Hisingen.
The Traffic and Public Transport Authority of Gothenburg is responsible for the construction of the new bridge, and it commissioned a joint venture (JV) between Swedish construction and development company Skanska and Danish-headquartered construction and civil engineering company MT Hojgaard to carry out the work.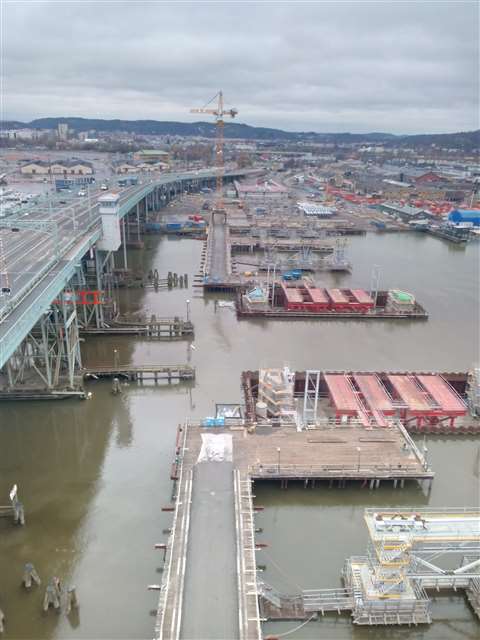 The JV is utilising two Liebherr 280 EC-H 12 Litronic top slewing tower cranes, supplied by Skanska Rental, which are mounted on travelling portal bases. The portal bases run along up to 100 metres of rail on a temporary wooden bridge, which is mounted on poles embedded into the river bottom, running parallel to the main Hisingsbron Bridge construction project. Being mounted on travelling portals enables vehicle access to the rest of the temporary bridge structure.
The two cranes have been equipped with ProSite anti-collision and zoning systems from French anti-collision systems specialist SMIE. According to SMIE, the travelling tower cranes require its WiFi-enabled ProSite system due to their proximity to roads, residential areas, public transport systems, as well as the complex nature of the construction site itself. Due to the bridge being near residential areas, working hours are limited. Because of this SMIE claimed it is important to have an anti-collision system that helps increase productivity. SMIE says it is also able to offer support from its team of locally-based engineers, which it said was a factor in Skanska's decision to use its system.