Historic Irish church refurbished and preserved
By Leila Steed05 July 2019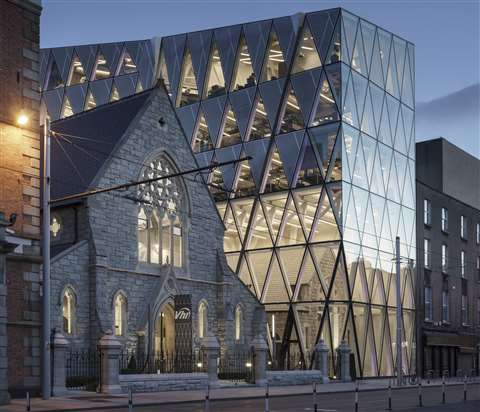 Scots Church in Dublin, Ireland, has been preserved and fully refurbished as part of the expansion of a commercial company's offices.
The protected structure, which was built in 1860, closed in 2003 when its congregation merged with another and had since fallen into disuse and disrepair.
Now, the historic building has been reopened after extensive refurbishment and restoration works.
The recently completed works saw the construction of a latticed glass and steel exo-skeleton over and around the adjacent church hall. Effectively a building within a building, additional office floors were suspended above the church hall.
The refurbishment also included the conversion of the main church into a public entrance foyer.
Designed by McCauley Daye O'Connell Architects (MDO) and built by Collen Construction, the project saw the companies win the 2019 awards for architect and contractor of the year, respectively, at the Irish Construction Industry Awards. The awards are run by the Chartered Institute of Building.
According to MDO, the project's main challenge was to preserve the cultural, religious, historical and architectural lineage of the church, while creating a new and sustainable office extension.
Designed in accordance with best conversation practice, the project included the use of insulated opaque and glass façade panels, integrated solar panels and rainwater harvesting.
All images by ©Donal Murphy Photos. Reproduced with permission.