Historic move for Kübler
By Alex Dahm03 January 2018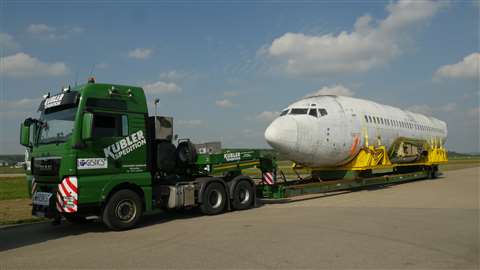 An historically significant aircraft had to be carefully handled by Spedition Kübler during a move in Germany.
The Lufthansa Boeing 737 "Landshut" was hijacked by terrorists in 1977. It was forced to take a convoluted route via Rome to Mogadishu where it was re-taken by German special forces. Some time after that it travelled to Fortaleza in Brazil where it ended up rotting away in an aviation graveyard. The Dornier Museum in Germany organised its return for restoration and then display.
A vast Antonov AN-124 cargo aircraft was used to transport the fuselage from Brazil. The wings followed on a smaller aircraft. For the transport from Lake Constance airport to the Dornier Museum the company Logistics Plus engaged specialist contractor Spedition Kübler. A new Scheuerle UltralightCombi trailer was chosen for the job.
Heinz Rössler, Spedition Kübler managing director, commented, "With the new Scheuerle boiler deck, we were able to drive to Friedrichshafen without requiring an empty-run approval and, once there, extend the vehicle to the required length through the addition of beams."
The UltralightCombi has a 12 tonne axle load, is 2.55 metres wide, has 650 mm of suspension travel and a 60 degree steering angle. It can be coupled with Scheuerle models InterCombi and EuroCombi.