Hitachi invests in UK rental company
By Murray Pollok14 May 2019
Former One Call Hire directors Anthony and John Fitzpatrick are jointly running a new UK rental business which is owned by Hitachi Construction Machinery Co Ltd.
Synergy Hire Ltd, based in Letchworth, will offer self-drive rental of Hitachi excavators and breakers. Its fleet will comprise ZX26U-6, ZX48U-6 and ZX85US-6 mini and compact excavators, as well as larger machines from the ZX130-6 to the ZX210LC-6.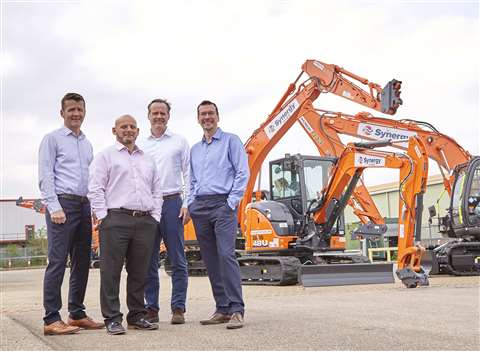 From left: Anthony Fitzpatrick (Managing Director), Dean Hardy (Head of Business Development), John Fitzpatrick (Managing Director) and Garry Orr (Director of Operations)
Although Synergy Hire is not being marketed as part of Hitachi's Premium Rental dealer initiative in Europe, it can be viewed as a UK-specific variant of the manufacturer's push into rental.
"The UK construction machinery rental market is proven," says Synergy Hire Director John Fitzpatrick, who runs the company with his brother, Anthony. "We offer the latest machinery, which is well maintained, and contractors have a fixed cost per week, with no machines lying idle."
He added; "We don't have any variations in our fleet, as we're focusing solely on Hitachi mini and medium excavators in order to offer an unrivalled level of service.
"For example, our engineers are trained by Hitachi Construction Machinery (UK) Ltd, they carry only Hitachi Genuine Parts, and have specialist knowledge of our machines."
Synergy was established in January 2019 with 10 employees, including former One Call Hire managers Dean Hardy, who will be head of business development, and Garry Orr, director of operations.
The company has just taken delivery of the first Zaxis-6 mini excavators in the UK. Hitachi said the machines are also the first Stage V-compliant minis to enter the UK rental market.
The Fitpatricks' former business, One Call Hire, which was a Hitachi customer, was sold to private equity businesses in 2015 and then merged with Fork Rent to create Ardent Hire Solutions.