Hitachi's oil sensors
By Sandy Guthrie08 September 2017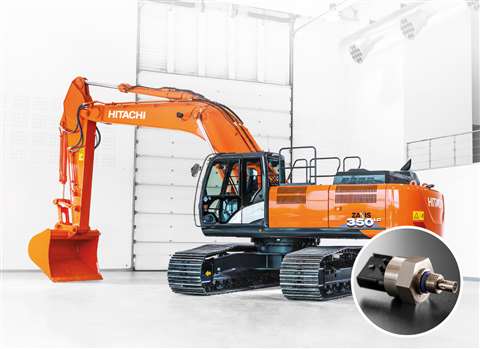 New oil sensors on Hitachi machines are claimed to be the first of their kind in the construction industry.
Hitachi said it had developed the innovation as part of its ConSite remote fleet monitoring system. It said it extracted data from two sensors that monitored the quality of an excavator's engine and hydraulic oil, all of the time.
Designed to reduce the total cost of ownership, the new oil sensors are said to enhance Hitachi customers' experiences with their construction machinery. The company said that increased machine availability and reduced maintenance requirements would save owners time and money – and that these were the key benefits of this feature.
The machine transmits sensor data on a daily basis to Hitachi's remote fleet monitoring system. If the oil quality has deteriorated or the oil has become contaminated, the dealer will be notified via email or text.
Hitachi said the necessary action could be taken – for example, an oil sample could sent to a laboratory. From this, a complete analysis can be generated so that the exact cause is identified. The dealer can then fix any faults quickly and conveniently on site, said Hitachi.
It said maintenance costs would be reduced through the new oil sensors providing a more accurate estimation of when an oil change was required. This is more efficient than a fixed oil change interval, it added. This helps prevent unscheduled downtime.
Tom van Wijlandt, manager, service business support, at Hitachi Construction Machinery (Europe), said, "We know that reliability and machine uptime are vital to our customers, and the new oil sensors will help to enhance this further. Combined with ConSite, this unique development will also continue to improve user experiences of Hitachi construction machinery."
The oil sensors will be installed in the ZX210-6 and ZX350-6 medium excavators from November 2017, and Hitachi said it would roll them out to other models in the near future.
A retrofit kit is also available from authorised Hitachi dealers for the previous generation ZX210-5 and ZX350-5 models.