Holland Pump on the acquisition trail
By Leila Steed17 January 2023
US pump and dewatering rental company Holland Pump Company has completed the acquisition of Texas-based BPR Pumping & Vacuum Solutions. The price was not disclosed.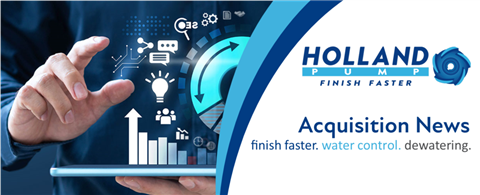 BPR primarily serves mining and infrastructure and has branches in Pearland near Houston and Manor, close to Austin. It rents pumps, vacuums and related accessories such as pipes, hoses and meters.
It is the sixth acquisition made by Holland Pump over the past three years.
Simon Wright, President of BPR Pumping & Vacuum Solutions, said, "We're proud to be joining the Holland Pump family. We've been impressed with the company's leadership and look forward to being part of the team's exciting growth in the Gulf Coast market."
The deal will help Holland Pump increase its ability "to service municipal, infrastructure, industrial, and mining projects in Texas."
It is the sixth acquisition that Holland has made over the three years and is part of a strategy that aims to expand its operations across America's east coast. Holland Pump received investment from private equity firm XPV Water Partners in March 2019.
Tom Vossman, Chief Executive Officer of Holland Pump Company, said, "This strategic acquisition supports our commitment to delivering best-in-class customer services through our pump fleet, field services, and engineering support.
"We welcome the employees of BPR Pumping & Vacuum Solutions to the Holland Team."
In June last year Holland Pump it acquired both Pennsylvania-based Sander Power Equipment and Pump & Maryland-based Power Equipment Corp. 
This was preceded by the acquisitions of Florida-based Complete Dewatering Pumps & Wellpoints in 2021 and that of Alpha Pump & Equipment, Inc. in October 2019.