How can the US reduce its high level of trench and excavation deaths?
By Neil Gerrard19 April 2023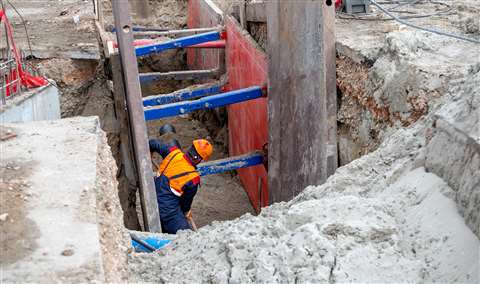 A total of 39 people died doing trench or excavation work in the US in 2022 – more than double the number of fatalities in that type of work than in 2021.
The figures illustrate the continuation of a troubling trend in what can – but crucially doesn't have to be – a dangerous activity.
The US Bureau of Labor Statistics found that 166 workers died in trench cave-ins from 2011-2018, an average of 21 each year.
Sadly, when cave-ins do occur, they can often turn out to be fatal.
That's something that Emil Szotko understands only too well.
Szotko is a construction safety specialist for the Department of Labor's Occupational Safety and Health Administration (OSHA) Region V (Chicago), enforcement programs and has plenty of first-hand experience of inspecting trench and excavation work, as well as seeing the consequences of what happens when it goes wrong.
"Many times, it's a recovery operation and not a rescue when a trench wall collapses," he says.
"And there's a huge difference. I have been to many trench collapses on inspections. You have to bear in mind that when a trench wall collapses and buries an employee, the emergency services can't jump in immediately to rescue them. It takes a lot of firemen and a lot of police to build the proper cave-in protection to make sure they can attempt to rescue the employee safely."
It's a slow and frustrating process and the speed at which emergency services can reach workers can have tragic results.
OSHA can't point to specific reasons why fatalities rose by so much in 2022. But incidents often tend to involve smaller contracting operations, perhaps with only a handful of employees.
No one type of work in one particular sector appears to account for a higher proportion of fatalities.
But Szotko does identify two particular types of employers who are more prone to fatal trench and excavation incidents.
He explains, "One type of employer thinks: 'I own an excavator, I own a shovel, I know how to dig a trench – let's go and do it'. He doesn't train his employees about the possible hazards or the repercussions of working at the bottom of an unprotected trench.
"Another type of employer is the one who has the capability to do it safely but doesn't pre-plan or just wants to get the job done on time. For example, they might have to redo a trench if a utility marking company has marked out the wrong spot. So instead of doing it correctly, they just dig, find whatever they are looking for and just jump in, hoping to fix it."
More training and awareness needed
So what can be done to reduce the high level of trench and excavation fatalities?
For Szotko, the key is better levels of awareness and training.
"Employers have to train their employees. And hand in hand with that training goes competent person training," he says.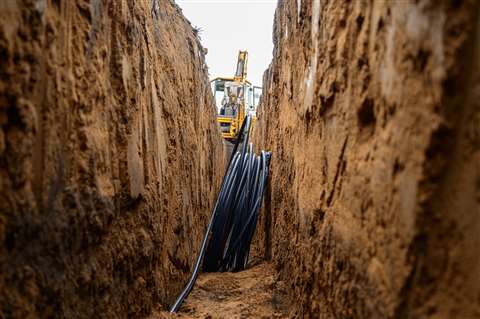 "Many times when we go out on inspection, there is no competent person on site to inspect the trench. They have to be able to identify a hazard and then have the authority to correct it immediately without asking for the employer's permission."
OSHA last week (10 April) embarked on a campaign across the Midwest to work with employers, workers, state agencies and industry associations to try to bring down fatalities and serious injuries.
In 2022, OSHA conducted 311 trenching and excavation inspections at sites in Illinois, Ohio and Wisconsin alone.
Six of those inspections followed incidents in which workers suffered fatalities after falling into a trench, being pinned between equipment, trapped by a cave-in or asphyxiated by naturally occurring, hazardous gases in the trench.
The new campaign begins as the spring construction season gets into full swing and trench and excavation works become more common as ground conditions improve.
Essential standards
OSHA has called on industry employers and workers to remember essential trench safety standards:
Protective systems must be in place for trenches 5-feet deep or deeper. These systems include benching, sloping, shoring and shielding.
A registered professional engineer must approve trenches of 20-feet deep or deeper.
A competent person must inspect trenches daily – and as conditions change – before anyone enters a trench. The competent person must be able to identify existing and predictable hazards, soil types and protective systems, and have authority to take prompt corrective action to eliminate those hazards.
Excavated soils must be kept at least two feet from trench edges.
Underground utilities must be located and marked before digging begins.
Ladders must be positioned every 25 feet of lateral travel for safe entrance and exit from the trench.
Meanwhile, OSHA is conducting outreach events and working with the National Utility Contractors Association (NUCA), which holds a Trench Safety Month each year in June.
Role for rental companies and OEMs
Szotko also sees manufacturers and particularly rental companies as having an important role to play.
"Rental companies provide very good training and they are very good resource for cave-in protection. So we do recommend employers to reach out to all those," he says.
As far as cave-in protection itself is concerned, there's a range of options available to contractors if they aren't able to bench or slope a trench because of the soil conditions or if they are working in confined areas, he says.
"It if they cannot bench or slope because they're working, for example, in the city and there's no room they can use trench boxes, hydraulic shoring, pneumatic shoring or even timber shoring to protect the trench walls from collapsing."
But he adds: "The important thing is they cannot work from the inside of the unprotected trench and start building the cave-in protection. The cave-in protection has to be built outside and then installed into the trench."
And he points to further resources that employers and workers can use to educate and train themselves to perform trench and excavation work safely.
OSHA has developed a series of compliance assistance resources in English and Spanish to help keep workers safe from these hazards.
It also hosts a trenching and excavation webpage provides additional information on trenching hazards and solutions. including a safety video and safety alert.