How compaction equipment is meeting rising rental demand
By Belinda Smart12 October 2022
Factors from sustainability to skills shortages are driving the compaction category, and rental solutions are on the rise, writes Belinda Smart.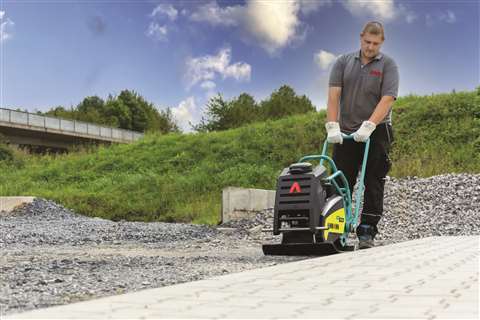 It's no surprise that sustainability is now firmly on the compaction sector's radar, with 'green machinery' increasingly a focus for OEMs.
A leading trade fair is a good indicator of sentiment, and at Bauma 2022, the major brands in the category such as Bomag and Hamm will be showcasing their newest releases – with a focus on battery powered and electric options - along with others including Husqvarna and Paclite.
Vlasta Medek, Head Commercial Manager – Heavy Compaction, at Switzerland-headquartered global supplier Ammann, sums up the trend.
"Demand for productive, ergonomic and easy to service machines is influencing the market, with renewed focus on efficiency and sustainability driving demand for more productive, ergonomic and easily serviceable machines."
"To control the compaction process and machine utilisation, different digital tools are increasingly being used," Medek tells IRN.
"The compaction process is controlled via ACE systems (Ammann Compaction Expert systems) and machine utilisation via Ammann ServiceLink. All the tools are user friendly, with simple dashboards and a broad amount of data available for precise planning."
Demand for green compaction equipment
The green transition is driving rental demand, according to Patrick Stellwag, Key Account Manager – Rentals at Ammann.
"Contractors are starting to test alternative/ e-machines of different sizes on their sites in order to get first insights about the manufacturer`s specific solutions, constraints, handling, electricity management, safety, and after sales. Therefore, they seldom buy equipment but rent it from those with a slowly growing portfolio," he tells IRN.
Light tandem roller with electric power train
A key launch for Ammann is the eARX 26-2, described as the world's first light tandem roller with a completely electric power train.
The first machine in Ammann´s 'green' eMISSION offering, its power train and vibratory systems are powered by electric energy stored in the machine´s battery.
The eARX 26-2, to launch in September, is designed for easy operation and comfort for small- to medium-sized jobsites.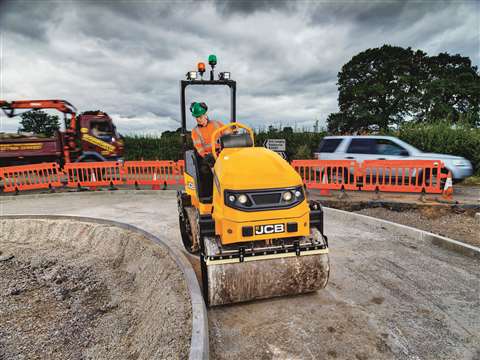 Its hydraulic system incorporates the ECOdrop philosophy, which extends machine life while delivering the lowest possible cost of ownership.
For compact use, the new Ammann ARS 30 and ARS 50 Soil Compactors are available in 3 tonne and 5 tonne weights and are positioned as the most compact rollers in Ammann's soil compaction product line.
"The no-rear-axle concept enables a lower engine location that improves the centre of gravity – which enhances stability, even on slopes.
The design also improves visibility and manoeuvrability. Those factors, combined with stability, promote jobsite safety."
Meanwhile Ammann's 3D Drive Compactor has been lined up as a finalist for the Bauma Innovation Award – perhaps reflecting its claim to be the first vibratory plate on the market that can go in an arc, circle or turn on the spot.
The number of shafts has been doubled, from two to four.
It adds to other vibratory plate options such as the APF 1550 vibratory plate, which features a vibration-damped control handle for increased safety and operating comfort, maintenance-free exciter system, and a self-cleaning and wear-free base plate.
The OEM says its sturdy frame protects the plate at the construction site and during transport.
In the trench roller category, the Ammann ARR 1575 StV Trench Roller utilises a new remote control for operator comfort and jobsite safety.
Cost-saving compaction equipment
Ammann recently introduced the Vanguard 160 engine, manufactured by Briggs & Stratton, adding to the Honda engines already available.
Ammann points to key advantages of the system. The Vanguard 160 petrol engines, available on Ammann APF 15/40, 15/50 and 20/50 Plate, feature a 3-in-1 control that, when put in the "stop" position, simultaneously shuts off both the engine ignition and fuel supply.
"This prevents the mixing of fuel and oil during transport – a top rental equipment issue, and a time-killer for small business owners, too."
The 3.7-kW (5-hp), 169cc single-cylinder Vanguard engine offers additional cost advantages through extended service intervals that are considerably longer than industry standards.
Efficiency gains
UK-based OEM JCB is also responding to a shift towards rental, according to Oliver Boenisch, JCB's General Manager – Compaction Global Growth.
"Compaction rollers are predominantly used in infrastructure construction or maintenance. The nature of these applications, with low working hours per day for this specific machine, has driven a shift from owning a roller to renting it.
With a large number of different applications and operators per unit, "Ease of use and robustness are key features of rollers to the rental industry as well as modern machine management technology."
JCB's CT160 & CT260 tandem rollers are in particular demand across the global rental industry, Boenisch tells IRN, with the JCB 116D single drum soil compactor also attracting demand for Tier 3 or lower emission markets.
Boenisch adds, "The latest CT160 & CT260 tandem vibratory roller is designed to simplify operation and maintenance, while increasing productivity and return on investment.
The CT160 is available in two drum widths - 800mm and 1000mm - while the CT260 is available in 1,000mm and 1,200mm widths.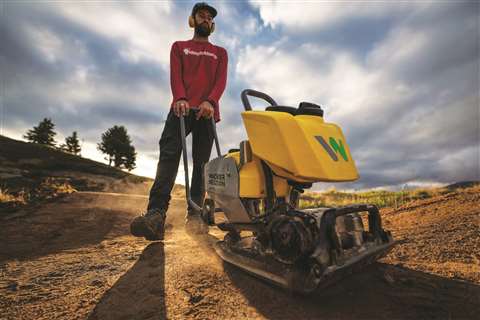 "Built for both asphalt and base layer compaction, the rollers' hourglass design delivers excellent visibility to both sides of the drums.
"The articulated chassis also offers access to the driver's seat from either side, with integrated grab handles and an obstruction-free floor providing plenty of space for taller operators.
"A single responsive drive lever allows smooth operation and there are three switchable vibration settings – for both, or independent front or rear, drums.
"Automatic Vibration Control is standard, while an easy to adjust offset facility increases versatility, making it easier to work around raised ironwork and kerbs."
The machines are powered by a Tier 4 Final, EU Stage V certified engine that uses mechanical injection and no diesel particulate filter (DPF).
JCB rollers all feature the JCB Livelink telematics system as standard. CT160 & CT260 feature EU Stage V / TIER4 engines whilst the 116D is equipped with a JCB TIER3 engine. All incorporating robust and reliable mechanical fuel injection making the units fit for jobs all around the globe. Strong and sturdy centre joints free of maintenance also reduce the service cost of all JCB rollers.
Boenisch says, "In light of the dramatic cost increases we have seen for fuel, the high efficiency, low consumption JCB 444 engine in the 116D becomes even more important. The drum is also 28+10mm thick, delivering more vibrating mass and durability – key in rental."
Battery-powered reversible vibratory plate
At Bauma in October, Germany-headquartered OEM Wacker Neuson will present what it describes as the first battery-powered reversible vibratory plate with direct drive system in the market; the switch in the travel direction is achieved via a hydraulic adjustment, as in conventional models.
The APU3050e has an operating width of 50 centimetres, a centrifugal force of 30 kilonewtons and is designed for manageability. Thanks to "the lowest design height of all reversible vibratory plates," it is suited for use in narrow trenches as well.
Stefan Pfetsch, Managing Director of Wacker Neuson Produktion GmbH in Reichertshofen, Wacker Neuson Group's centre of expertise in compaction machines, tells IRN the soil compaction segment is a growth area for the OEM. "We are currently at the beginning of a technological transformation - the keywords are electrification and digitalisation."
Can ease of operation help with worker shortages?
Katinka Kincses, Product Manager, Bobcat Attachments EMEA - Doosan Bobcat EMEA, tells IRN the lack of experienced operators is becoming an issue for the industry.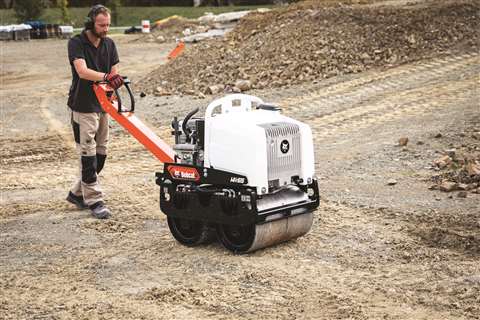 The larger the job site, the more expensive it can get if the asphalt cracks due to over compaction or is not evenly compacted.
"For this reason, it is crucial to have these compactors equipped with technologies that make them easy and safe to operate, and systems that minimise the risk of operator errors when compacting asphalt."
"Our forward plates have extremely low HAV levels, some models don't even require documentation on the job site. Their plates are thicker in the rear, where most wear occurs, and can last the entire lifetime of the product.
"Larger reversible plates are mainly targeted towards rental customers, so we have fixed the water tanks to the plates to avoid them getting lost between job sites.
"They have hydrostatic steering controls for quick and easy change in compaction direction, while the handle is cut in the middle to protect the plates against incorrect lifting on the jobsite.
"My personal favourites are hydrostatic plates and our dual drum walk-behind roller. Both of these are the 'Ferraris' of their class." A 'triple shaft' on the HP (hydrostatic plate) lineup, means there is a third shaft located in the middle of the plate.
"This will change the way the plate is moving and will increase compaction output and gradeability."
Caterpillar also recognises that ease of operation is key; the Cat 815 Soil Compactor was released last year with new machine designs and revised service groupings combining to cut maintenance costs up to 9%.
The operator's cab features upgrades to the steering and climate controls with the aim of enhanced comfort.
Operator comfort remains a critical issue across most releases in this category, Brian Nagel, Global Sales Consultant for Caterpillar asphalt compaction products, tells IRN. "The most common challenge that customers are faced with is finding operators, particularly in the rental sector," he says.
"Cat utility compactors have always been designed with the operator in mind. A rubber isolated operator platform and high-end suspension seats help reduce the vibrations that an operator feels and he will be less fatigued at the end of the day. Automation features can also help make inexperienced operators more productive."
Vibratory plates and rammers
Netherlands-headquartered Tobroco-Giant has added a new range of compaction machines with the rebranding of the SAMAC vibratory plates and rammers.
The expansion follows Tobroco's acquisition last year of fellow Dutch company ULBO Machinery, which owned the SAMAC brand.
Known for wheeled loaders and skid steer loaders, Tobroco-Giant said the addition of the vibratory plate and rammer models – which will carry Tobroco-Giant's yellow and grey corporate livery and a logo depicting a compaction machine - reflects its aim to become a "full-line in compact equipment."
The compaction range comprises 24 models, available with petrol, diesel or electric motors from Honda, Hatz or Yanmar, and includes a roller vibrator, eight reversible plates in the 180 to 485kg range and 11 single direction plates weighing between 51 and 180kg