How hyperloop became part of EU's green deal
By Mike Hayes26 October 2021
European Commission invests €15 million in latest plans for 'green' transport network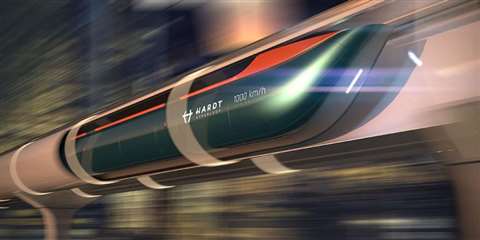 The European Commission (EC) has agreed to invest €15 million in development plans that could ultimately result in the creation of a 10,000km-long pan-European hyperloop network.
The new funding will be used by Dutch engineering company Hardt for research and development in the super-high-speed transport concept.
The plan initially involves the proposed construction of a pilot freight route in the Netherlands, between Rotterdam and Amsterdam – which Hardt hopes to have operational before the end of this decade.
The funding will also aid the development of the European Hyperloop Center in Groningen – an innovation hub where Hardt aims to demonstrate lane switching technology for the hyperloop system.
The technology of hyperloop sees vehicles travel through low-pressure tubes, powered by an electromagnetic propulsion system at speeds of up to 1,000km/h.
The EC believes that if the carbon-neutral transport system could be rapidly expanded, it has the potential to help Europe achieve its 2050 emission reduction goals.
Tim Houter, co-founder of hardt hyperloop, said, "It's great to have now gained the trust of the european commission. Their support will help to accelerate the development of a European hyperloop network, bringing us much closer to significant co2 savings. European cities will be connected smarter, faster and cheaper."