How is digitisation changing the falsework and framework process?
By Andy Brown02 December 2021
Digitisation is taking hold in several areas of the falsework and formwork process, enabling the sector to increase efficiency, reduce costs and plan even more ambitious projects, writes Andy Brown
The industry of formwork – the process of creating a temporary mould into which concrete is poured – and falsework, its support, such as scaffolding is enjoying good growth thanks to increasing investment from governments in modernising old infrastructure along with new constructions, both in residential and non-residential sectors.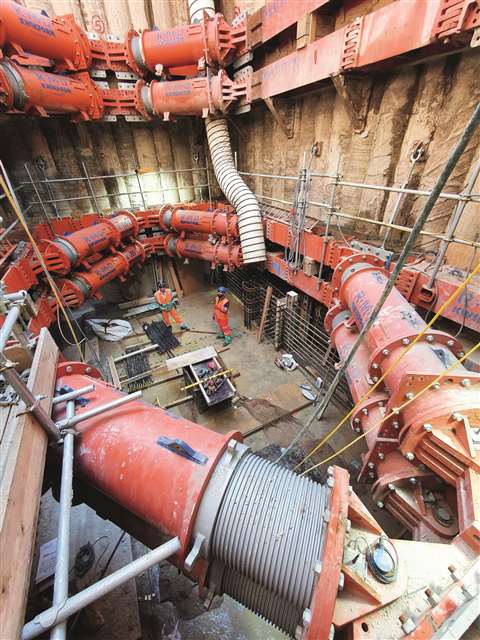 Due to the impact of the Covid-19 pandemic many government around the world have turned to infrastructure investment as a way of boosting their economies. Just as this has led to extremely high levels of construction equipment sales, so the falsework and formwork sector has also benefited. Indeed, this large-scale investment aligned with booming housing markets in many regions, such as North America, has created strong conditions for the sector.
Falsework materials 
The materials being used in falsework are also evolving. According to a report from Hexa Research, one of the big trends is aluminum formwork structures being increasingly preferred over their counterparts as they are light weight and have low density – their reusability also makes it an eco-friendly material, something that is increasingly important.
Just as the materials are evolving, so is the technology. "New technology is always influencing our sector," says Matt Wiseman, Divisional Digital Innovation Manager at RMD Kwikform.
"While different regions around the world are advancing at different rates, 3D design in construction is now reasonably commonplace, delivering many well-documented benefits to all stakeholders involved in a project.
"Digital engineering tools seamlessly enable everyone involved to view, interrogate and communicate information and questions about a project. The latest digital engineering tools also offer high quality and realistic 3D visualisations of temporary works on a build, helping to break down any communication barriers and ensure transparency across the supply chain for any specified systems."
Wiseman adds that this increased digitisation leads to reduced risks, as any potential issues can be seen and fixed quickly.
Boris Philippsen, head of international business, Paschal, agrees that digitisation is increasing, saying that it is "taking hold in several areas of the process". He adds that, "At the interface to the customer and the construction site, there are several approaches to digitalisation.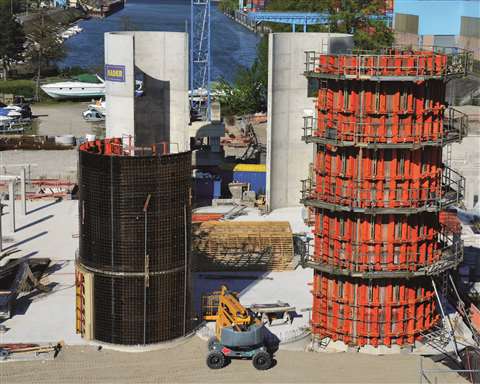 "On the one hand, we have the entire planning process for the formwork, which we adapted years ago so that our planning software PASCHAL-Plan light (PPL) 12.0 is BIM-capable and the exchange within a BIM project is possible. At the same time, with the planitec AR app, we offer the possibility to view the current planning status in virtual reality, even on the construction site."
Slab formwork 
When German-based construction projects and building materials contractor Martin Meier decided it was time to construct a new headquarters they used Peri Skymax Large Panel Slab Formwork for the first time.
The new site is located at a central transport hub and will house all nine business divisions including Jurament – the name Jurament is a play on words that combines the building's location in the Altmühl-Jura region and the building material cement.
With its unusual ground plan, the pentagonal building echoes the landscape axes of the immediate surroundings. Four upper floors plus an underground car park will provide around 10,000 square metres of floor space.
The building geometry has some special features, meaning certain demands are placed on the formwork. These includes the large room heights, for example 4.25m on the ground floor, as well as the 30-cm-thick floor slabs. In addition to the Peri Maximo Wall Formwork and the Peri Pep Ergo Slab Props from its own inventory, the Meier construction company is using Peri Skymax Slab Formwork.
Using only four core components, Peri has developed a large panel slab formwork that ensures a high level of occupational safety as all panels are safely hooked in from the level below and then pivoted upwards. The formwork is struck in the same way. The self-explanatory system and straightforward handling methods facilitate rapid assembly and are said to minimise the likelihood of errors and accidents.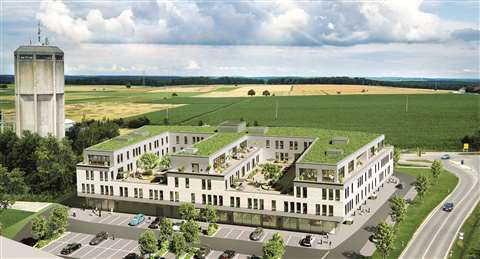 Around 1,000 tonnes of steel and 12,00m3 of concrete will be used for the building, which will be more than 18m high. Due to the uniform formwork pattern that is achieved, a large proportion of the surfaces in the building are to remain as architectural concrete slabs. The building is scheduled for completion in the summer of 2022.
Another project that took place in Europe used new slab formwork from Meva to simplify construction of a parking deck in Copenhagen, Denmark. According to reports, the slab of the single-storey parking deck presented a number of challenges due to limited space.
With numerous columns and inclined walls, a labyrinthine floor plan and, in some cases, sloping surfaces, this project was said to be a good test for the new slab formwork.
The 50cm thick slab was poured in three cycles due to the partly sloping surfaces. Construction began with the sloping section of the slab, which dropped down from a height of 256cm to 238cm.
The MevaDec system with closed aluminium profiles, in conjunction with the new grip openings and the ergonomic design of the inner profiles, was said to make handling easy. The 160 x 80cm panel mainly used weighs just 16 kg/m² which helped to reduce worker fatigue.
As MevaDec does not need to adhere to a fixed grid pattern it is possible to adapt the formwork flexibly to suit various building geometry and slab thickness. The assembly direction can be changed by mounting one primary beam into another – useful due to the minimised filler areas involved in this project, with its irregular floor plan and many necessary columns.
Construction industry sustainability trends
Sustainability is a mega trend in all sectors, and falsework and formwork is no exception. Philippsen from Paschal points out that some of the company's formwork elements are used by clients for more than 20-30 years and can be renovated repeatedly, but agrees that the sector is increasing looking at how it can be more green. He adds that this desire, coupled with the problems and strains on supply chains has led to them trying to source more of their raw materials closer to home.
"In connection with Covid-19 and the material shortages and transport problems that have now emerged, we then took a closer look at our material procurement chains and tried to procure more raw materials in Germany or the EU," says Philippsen. "We also had to realise that the internationalisation of the raw materials market cannot be reversed so easily. The dependencies, especially on China, are also noticeable for us again and again, no matter whether it is steel, silicone, electrical components."
Another trend is health and safety and Lisa-Marie Cunningham, Divisional HR Director at RMD Kwikform, tells us that while it is always vital, there is room for improvement in the industry. "When developing new temporary works products, features to improve health and safety standards on-site are always our number one priority, and our teams are always properly trained to anticipate risks, realise the importance of being prepared to work safely, and understand the value of leading by example," she says.
"However, as an industry, we're very aware that there's still plenty of room for improvement. For example, in the UK, the Health & Safety Executive consistently reports that the number of work-related accidents in the construction industry is significantly higher than any other line of work. This must change.
"Key to this is educating staff and workforces, which is why RMD Kwikform has developed its I-Care Safety Leadership initiative for managers and supervisors. We currently have more than 130 people from around the world taking part in the programme, progressing through a series of modules that are helping our teams form strong safety habits and develop key leadership roles."
New York skyscraper 
US-based Trident General Contracting is using a variety of formwork, shoring, climbing, and safety systems for the construction of a 325m tall skyscraper in Brooklyn, New York, US. Known as 9 Dekalb Avenue, the residential tower is being built on behalf of JDS Development.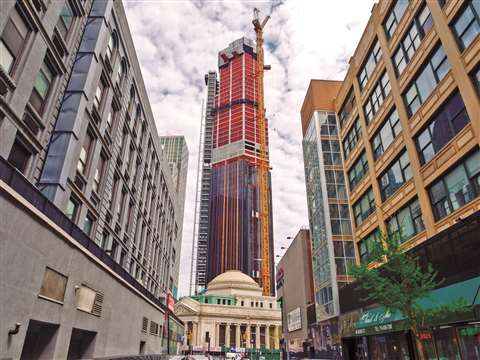 It was designed by SHoP Architects and comprises 425 apartments, 150 condominiums, an outdoor terrace and a rooftop swimming pool.
To construct the tower, which will rise 73 storeys into the air upon completion, Trident is using the newly updated telescopic HWS perimeter safety screens from specialist access equipment provider, ULMA Construction.
ULMA said, "The exceptional height and constant change in shape of the building required this technical solution. The other big challenge of this job were the three transfer levels on floors 34, 51, and 74, with thick slabs supporting solid perimeter walls designed to transfer both vertical and lateral load."
The HWS system was used to brace the wall formwork prior to pouring the concrete. According to ULMA, this meant that Trident could proceed without the use of a crane.
The cores were made with the RKS Rail Climbing Formwork, which ensures safe climbing at height due to the rails attached to the walls.
Alongside the RKS Rail Climbing formwork and HWS system, Trident also used the MEGALITE handset panel to erect the skyscraper's walls and columns. According to ULMA, the product can support a concrete pressure of up to 1250psf and enables walls measuring more than 2.43m (8ft) in height to be installed.
In Europe, the construction of the building shell for the Eichert Clinic in Germany presented a challenge, due to the multi-storey overhangs planned for the eastern and western faces of the building – this required an innovative solution and the use of technology.
Until the upstand beams of the top floor are sufficiently load-bearing, shoring is needed for concreting the projecting building section. The construction company responsible for the project, Leonhard Weiss, was assisted and supported – from preparation to assembly – by Layher's applications engineers. They jointly devised solutions that allowed the high loads arising during construction work to be dependably absorbed while keeping to the tight schedule.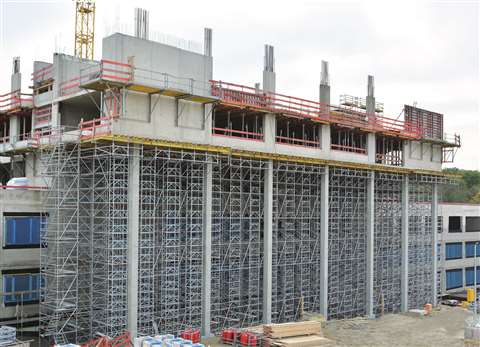 When looking for the most economical solution, the technical office at Leonhard Weiss contacted the Construction Applications Engineering department at Layher during the job preparation phase. The first step was the load concept.
"Originally the shoring was intended to bear all the loads from the superstructure. But Allround Shoring TG 60 can be flexibly adapted to loads, geometries and ground conditions, which improves the speed of assembly," said Roland Hassert, Head of Construction Applications Engineering at Layher. "Thanks to temporarily used concrete supports, the effect on the load on the shoring was decisively reduced."
In close consultation with Leonhard Weiss, planning itself was conducted using Layher SIM on the basis of LayPLAN SUITE. This integrated software solution offers the right modules for every need.
Using LayPLAN CAD, designed especially for complex structures encountered in engineering scaffolding construction and permitting 3-dimensional planning of scaffolding construction projects of every type, it was possible to adapt the shoring exactly to the building geometry and to the sloping ground features – including collision checks.
Egypt's new city
Nestled on the Mediterranean coast, it is hoped that the New Alamein City will represent a new dawn for Egypt's international tourism, local residences and archaeological communities.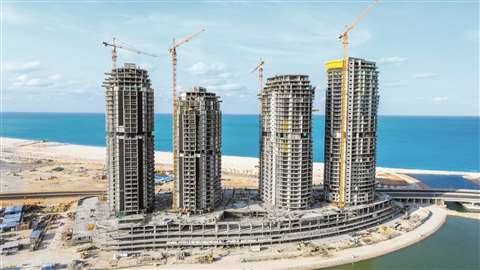 Covering over 50,000 acres and stretching 60km into the desert, New Alamein has been dubbed a fourth-generation city. Designed to provide three key functions; tourism along the Mediterranean Sea, residences for the local population and an archaeological site near the Alamein Cemetery, the new city will eventually have capacity for up to three million residents.
Working under the joint venture of HAC – CCC, Doka Egypt was contracted to provide a comprehensive formwork solution for the first four towers to be erected, known as the Coastal Towers LD00. The solution, which included complete design and shop material as well as a team of formwork instructors for the first six months, commenced in June 2018 and ended up using a mixture of new and reconditioned systems that were originally used over a decade ago.
Reaching 33, 29, 30 and 26 floors respectively, the solution required large volumes of formwork including 14,500m2 of Dokaflex 20, 611 linear metres of Protection Screen Xclimb 60, 69 sets of Large-area formwork Top 50 for columns, 2,650m2 of Large-area formwork Top 50 for the core walls and 550m2of Framed formwork Frami Xlife.
Speaking on behalf of Doka Egypt, managing director Mohamed Aiesh said, "Having worked with the client before, we were pleased to reunite on this project, particularly one which will provide so much benefit for Egypt's socioeconomic development. While the project is still in progress we anticipate handing over our part of the project shortly, with the first residences being scheduled for handover in the next year."
The falsework and formwork sector is evolving, and technology is a key part of this. However, a key point is made by Paschal's Philippsen who cautions that not all clients are ready, or want this yet. "In our projects we always aim to offer the customer the best solution for him and to develop it together with him. It is always about optimising the work in such a way that time and money can be saved, and we have actually tried to implement this from the very beginning."
While the technology will continue to develop, so are the systems themselves and this will also lead to increased productivity. "As far as the systems themselves are concerned, the aim is always to make them safer, simpler in structure and to design them in such a way that all our systems can be combined with each other as far as possible," says Philippsen. There are lots of ways, lots of different routes for the sector to increase productivity, and most of these are being taken.
BIM to the fore
How digital solutions can boost productivity and save costs
Digitalisation is being increasingly integrated in many facets of construction, with falsework and formwork no exception. The use of Building Information Modelling (BIM) is one digital tool being used to transform the design of scaffolding and formwork solutions.
"The comprehensive digitisation of our warehousing system now allows us to connect directly with the client's worksite and monitor progress, adjusting material supply to maximise productivity and reduce expenses," says Ander Ollo, marketing director, Ulma Construction. "We are also working with laser scanner technology that will allow us to precisely adjust our scaffolding design to the true dimensions of restoration projects."
The methodology made possible by BIM represents a radical shift in the construction process, seamlessly integrating all stakeholders in the planning process from start to finish.
"The interaction between the physical elements onsite – the materials – with our digital tools, allow us to design projects based on exact 3D models," adds Ollo. "And we can work more efficiently, in stages with detailed lists that precisely meet real needs onsite. Improvements in engineering and logistics also improve productivity and safety throughout the project."
Laser scanner technology streamlines the data point collection process, drastically improving precision. Ollo says that, as a result, it's possible to measure the exact distance between any two points at any time and design the scaffolding with a point cloud generated for the renovation of any building or structure, adjusting whenever necessary.
"Digitisation is key in the development of BIM tools," Ollo says. "It allows for realistic 3D models from which formwork and/or scaffolding projects can be designed, as well as online oversight of the project and worksite as it progresses."