How to promote an inclusive environment in your company
Spurred on by the #MeToo movement and #BlackLivesMatter, construction and rental companies have been among those rushing to introduce and upgrade Diversity & Inclusion programs. Emma Porter, managing director of UK-based Story Contracting tells Lucy Barnard how her company is working to become a more welcoming workplace. 
When she started working in the plant hire business, Emma Porter noticed that many staff were being asked to start work at seven in the morning without any apparent reason.
"The plant hire division started out providing internal plan to the wider Story Contracting company and so that meant that the teams needed to be in first thing in the morning because they were preparing the machines for the day, which made sense," recalls Porter, now managing director of UK-based contractor Story Contracting.
But as the company grew and diversified to become an external plant hire firm, staff contracts continued to contain a 6.30am start time, even though there was no practical business case for them to do so.
"We didn't really need to be in at 6:30am or 7am - but it was just decided that was the start time. And so, for years that was the start time in people's contracts," she says. "But if you've got young children that you need to drop off at childcare in the morning, nurseries are not open at six thirty in the morning. And so, we, for no business reason at this point, had a barrier that really restricted the people who could apply for that work."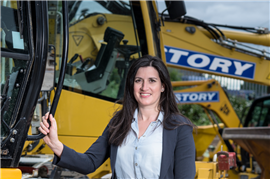 For Porter, who also runs Story's plant hire division, Story's inconvenient start time is just one example of the barrage of 'microaggressions' which together form a "horrible black fog of unconscious bias," which continue to make life harder for women in the construction industry and which has prompted her company to adopt a new diversity and inclusion programme aimed at making the company more welcoming.
"Often when I talk about diversity, I talk about the need for different perspectives, but I'd really missed just how much my perspective meant that I was seeing issues, that others weren't," says Porter, addressing an audience at the European Rental Association Convention in Maastricht this summer. "I would be frustrated thinking why aren't they fixing this? This is a problem. But the key reason they were not fixing these problems was because from where they were standing, they didn't see it."
And Story is not alone. Spurred on by the #MeToo movement and #BlackLivesMatter, corporates around the world including many in construction such as Vinci, Bouygues, Skanska, Bechtel and Hochtief, have been rushing to introduce and upgrade their own Diversity & Inclusion programmes and training, aimed at finding ways to boost their numbers of women and BAME employees and find ways to retain and promote them better. 
Certainly D&I training programmes are becoming big business. The global D&I industry which covers training programmes, resources groups and recruitment support, is projected to grow by 12.7% over the next decade to reach a total value of around US$30bn by 2033.
Within construction, a record 2,345 companies took part in Construction Inclusion Week in 2022, nearly double the number which took part in its inaugural year in 2021 and more are expected to join this year's event in October.
Supporters say the moves show a real determination from C-suites to make a difference. Critics see such efforts as examples of 'wokeness' and argue many initiatives are just tick box exercises evoking little meaningful change. 
The benefits of diversity
For finance directors, the rewards are appealing. A 2020 report by McKinsey which found that companies with gender diverse executive teams were 21% more likely to experience above-average profitability while those with a higher representation of women on their boards saw a 42% higher return on sales and a 66% higher return on invested capital than those with all-male boards.
And yet, despite small hints of progress in recent years, construction as a whole remains one of the most male dominated industries in the world and is seen by many as epitomizing some of the worst examples of a workplace culture of toxic masculinity.
According to the Bureau of Labor Statistics, the number of women employed in the US construction industry rose slightly from 9.3% in 2002 to 10.9% in 2022.
In the UK, the Office for National Statistics says the number of women in construction grew to 340,000 in 2023 - representing nearly 15% of workers. And in Australia, the Australian Constructors Association says women represented 12% in 2022. Moreover, if you count the number of women in site-based roles, the numbers are even smaller.
In May 2023, the US Equal Employment Opportunity Commission published its latest report into employment discrimination in the industry. Citing examples from its own recent investigations, it reported that harassment and overt discrimination continue to prompt many women and people of colour to leave the industry while discrimination in apprenticeships and hiring prevents many more from entering it in the first place.
Although Porter says Story does encourage staff to take part in some 'unconscious bias' training exercises run by Scottish training firm Insights, she says Story's main DE&I strategy revolves around three inter-related actions: Swiftly and decisively dealing with examples of overt sexism; removing so called 'microaggressions' from the business; and actively working to understand and correct the sea of unconscious bias pervading the industry.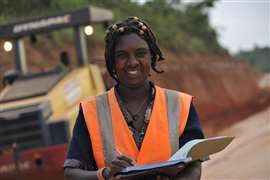 Porter says that although examples of bigoted behaviour continue to dog the industry, in her experience, changing attitudes in society, greater awareness of employment laws and awareness campaigns such as #MeToo are making such cases rarer and easier for good managers to deal with when they do occur.
"Actually, that very explicit kind of old-fashioned view that women just don't belong here and why would you even want them is pretty uncommon," she says. "When you do come across it, it's fairly easy to deal with as well because most people around you will agree it's unacceptable. And so, you can stamp it out pretty quickly and get on with it."
"The problem is that because it [blatant sexism] happens less and less, people mistakenly take that as evidence that now it's all fixed and there's no problem."
A second area targeted by Porter's strategy is the daily barrage of so-called 'microaggressions' – small interactions or signs which help create and perpetuate the sort of environment where some team members feel uncomfortable – are rife within construction and are preventing the industry from becoming more diverse and inclusive.
First coined in the 1970s to describe the kind of tiny everyday annoyances that help create and perpetuate the oppressive environment in which a disadvantaged group lives, microaggressions can include anything from having your name constantly mispronounced to being talked over in meetings.
"They are all small things; the 'dear sir' on your email, the fact that there are no ladies' toilets or sanitary bins on site, or all your company's literature has only photos of men in it," Porter says.
"They seem really petty – and you don't want to make a mountain out of a molehill. And that's what makes it hard to address because you think oh well, it's fine, it's only one email, I won't make a fuss. But in this case, the mountain is made of molehills."
Microaggressions
"These small things add together to make you think that you don't quite fit in and they undermine you," she says. "They unintentionally send a message that you don't belong. They are constantly low-level signals that cumulatively send a message that you don't belong, and you shouldn't be there."
Porter argues that removing these unintended microaggressions is one of the easiest ways in which business leaders can act to make businesses both more welcoming to all staff and ultimately more competitive.
"The nice thing about these unintended microaggressions is that no one is really offended if you point out that you're not a sir or that the PPE supplies doesn't fit you. So, once you've spotted them, they're also fairly easy to fix. It's just a matter of seeking them out one by one and getting rid of them."
Harder to deal with, she says is the many examples of unconscious bias which continue to hinder women's progress in the construction industry through a variety of ways, many of which may not be immediately obvious.
As well as benefitting from an unconscious association with stereotypical views of leadership, making it easier for them to get their views heard, men tend to be judged differently in terms of performance. They tend to be promoted on potential whereas women tended to be promoted based on experience, meaning the men were promoted earlier in their careers. Meanwhile women could suffer from "benevolent sexism" where line managers failed to provide accurate feedback or did not offer women the chance to take on challenging projects in order to protect them.
Porter says that combatting unconscious bias in companies is a constant and evolving task. Unlike a number of firms in the sector, Story has stopped short of introducing mandatory unconscious bias training for staff and instead uses Insights staff training to provide a starting point to initiate discussions on why diverse teams are important.
"This is not something that your people team can do for you. It's not something that one initiative will fix," she says. "It's really about paying attention and asking people do they feel heard in meetings? Take on board a wider range of views when you're making decisions and ask for feedback more as a leader. Always advocate for people who aren't being heard and take the time to notice the person next to you to really notice them and think about what your business might look like from where they're standing."