Huisman to build another 2,600 tonne crane
By Alex Dahm21 January 2022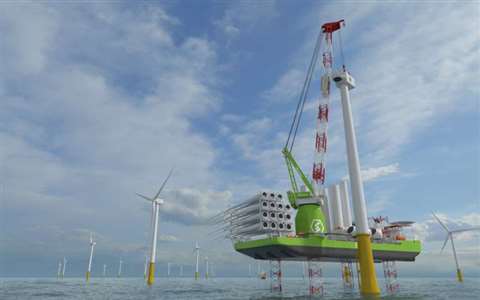 Dutch crane and engineering specialist Huisman has signed a deal with Daewoo Shipbuilding and Marine Engineering (DSME) for another 2,600 tonne capacity crane.
DSME ordered a similar leg encircling crane (LEC) in July 2021. This latest one will be installed on the second wind turbine installation vessel ordered by Eneti and constructed by DSME.
It is fully electric and will have a 155 metre boom to give a lifting height above the deck of 174 metres and 215 metres above the lowest average tide. Such capability will allow erection of turbines up to 20 MW capacity, Huisman said.
The LEC is designed to maximise available deck space by having a minimal tail swing. Another feature is the slew bearing construction in multiple segments to ensure easy inspection and maintenance. Where possible the mechanisms and other components are housed inside the body tub of the crane. It helps protect against the harsh marine environment, improves reliability and reduces maintenance.
David Roodenburg, Huisman CEO, said, "We are grateful to DSME and to Eneti for their continued trust in Huisman with this second order for a leg encircling crane. Like Eneti, Huisman is committed to advancing sustainable energy solutions. Therefore, we have developed this crane to support the efficient construction of offshore wind farms. The LEC is designed with both reliability and scalability in mind. It is able to handle not only the current generation, but also the larger, higher capacity turbines anticipated in the future."