Hutchinson Engineering buys low loader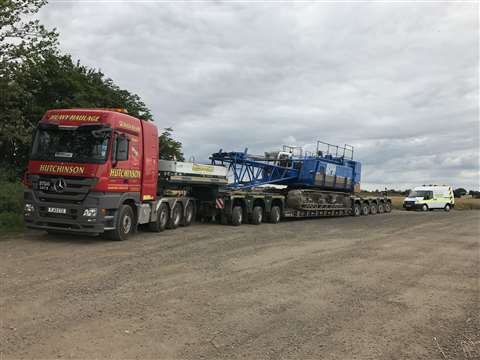 UK engineering, fabrication, crane rental, commercial vehicle repairs and heavy haulage company, Hutchinson Engineering Services, has added an STZ-VP 8 (285) low loader to its fleet. The STZ-VP 8 (285) is manufactured by German modular trailer and transporter specialist Goldhofer Aktiengesellschaft.
The STZ-VP 8 (285) is the latest addition in Goldhofer's STZ-VP range. The nomenclature of the new low loader is due to its new 285 mm tyres. Goldhofer said the STZ-VP (285) has an axle load of up to 16 tonnes and a high bending moment. The drop deck means it is suitable for moving big and heavy machinery and plant. The gooseneck can be used with or without a front bogie and it is possible to combine the front bogies with Goldhofer's MPA-K modular semitrailer range and the rear bogies with its THP range of heavy-duty modules. A pendular axle system is designed to ensure even load distribution on all wheels, and the low loader has a 65-degree steering angle.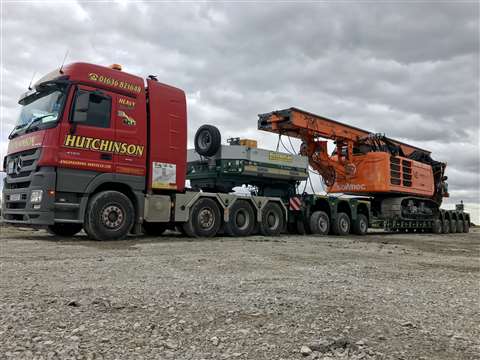 According to Hutchinson Engineering Services, the low loader has been in great demand since it received it and the company has already successfully used it on both short and long journeys, including transporting a 90 tonne crane a distance of around 70 miles and an 85 tonne crusher a distance of approximately 200 miles. Hutchinson Engineering's haulage specialist, Harry Hughes, commented, "I work with the STZ-VP 8 (285) on a daily basis: it's a powerful workhorse that is suited for all haulage operations, especially involving heavy plant. The STZ-VP 8 (285) is an all-rounder that prepares us for the future with optimum flexibility for our fleet. The modular system means we can choose between a five-axle and an eight-axle configuration and thus react faster to growing demands in the heavy haulage industry."