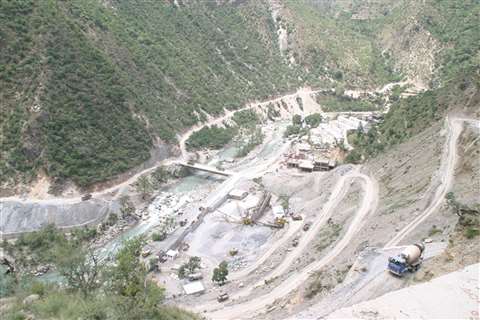 Nine Sandvik underground drilling rigs are being used to cut the tunnels for the US$ 560 million Parbati Hydroelectric Project Stage III, in the Himalayan foothills at Himachal Pradesh.
The dam for this part of the project is a 43 m high rockfill structure. Tunnelling work meanwhile is formidable. It involves cutting a 7.98 km long headrace tunnel of 7.25 m diameter, a 13 m diameter 114 m high surge shaft, a 2.7 km long tailrace tunnel, and two pressure shafts, one of them 375 m and the other 345 m, forking into four 3 m diameter penstocks. The underground powerhouse will be 123 m in length, 22 m in width and 44 m high and will be equipped with four 130 MW capacity generating units.
Two civil engineering contractors, the Jager-Gammon India joint venture and the Larsen & Toubro-Patel joint venture are between them cutting the tunnels and undertaking other civil related works. Jager-Gammon is using four Sandvik Axera T08-290 rigs and an Axera T08S-290C, while L&T Patel has four Axera T08-290 rigs. The machines are equipped with Sandvik drill tools.
Tunnelling in the Himalayas is a notoriously difficult process, due to the varied nature of the rock encountered, the instability of some areas, and seasonal snowfall and rain.
Gammon's senior project manager Rajendra Singh said they are running to a 56-month schedule and their contract is due for completion in the second half of 2010. He said that at the end of April this year, Gammon had completed around 8% of the excavation work.