Hydro Rents' prescription for medical center challenge
By Lindsey Anderson01 August 2018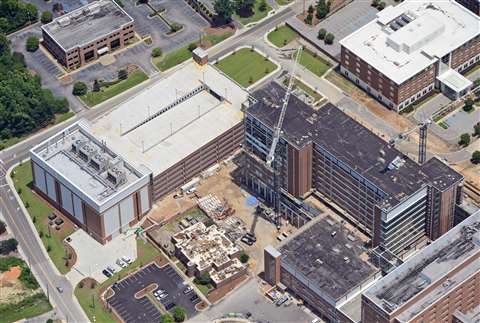 Constructing the new Lexington Medical Center addition is no easy feat. Billed as the largest hospital expansion in South Carolina history, the state-of-the-art 10-story patient care tower in Columbia will add 545,000 square feet, 20 special care nursery beds, eight operating rooms, 71 inpatient beds and much more to its already popular facility.
Alabama-based general contractor Brasfield & Gorrie broke ground on the medical center in 2016. To help complete the enormous construction task on time, on budget, and safely, they called upon Carolina Hydro Rents to provide solutions for their access challenges.
North Charleston-based Hydro Rents, part of AGF Access Group's rental division, is focused on the rental, sales and service of access equipment, including Hydro Mobile's line of mast climbers and other products. Like all divisions of AGF Access Group, the rental division is known for creating hazard-free work environments while increasing worker safety, security, longevity and productivity.
The massive job, stretching up to 185 feet, required a multi-trade access solution; one that would allow steel erection, glazing, waterproofing, caulking, brick masonry and glass installations to be completed.
"Scaffolding and aerial lifts can't go that high," said Allen Heape, general manager of Hydro Rents Carolina, Inc. "The only solution that was going to work for them was to use multiple mast climbers that supported extra high capacity for the workers and their tools at one time. That way the workers could chase the steel up and perform any number of tasks at a time."
Hydro Rents' delivered 30 tractor trailer loads of equipment to the jobsite starting in June 2017, supplying 23 factory-new Hydro Mobile platforms to complete the job. This included 18 Hydro Mobile M Series mast climbers and five P Series mast climbers. There were also four Hydro Mobile H500 hoists to help move brick up and down.
The M Series platforms provided the round-the-clock workers with large, 7-foot wide decks, anywhere from 2 to 10 feet in length. The easy-to-use, 22,000-pound capacity platforms allowed workers to load them up with their tools and supplies, such as brick and glass, for the entire shift. The P Series platforms were utilized for the smaller jobs that required high capacity of up to 6,000 pounds at up to 28 feet and could fit where most platforms don't.
Safety is of utmost importance to Heape. He organized more than 20 classes to train the workers, who were unfamiliar with this type of access equipment. Operators were put through a four-hour course on site, around the clock, to keep construction moving on schedule.
"Safety is a huge part of what we do on a daily basis, 24/7," said Heape. "We take safety very seriously. Everyone had to have familiarization before they operated the equipment. We had to train over 100 operators how to use the equipment properly to ensure safety and efficiency on the jobsite."
With Hydro Rents assistance, the job is proceeding on time and without incident. "Not only are we proud to contribute to the building of the new medical center extension in a safe and efficient manner, but we are helping to build an important part of the Columbia community," said Heape. "This is a significant project for the state of South Carolina and we are full of pride to be playing a crucial part in its construction."