Hyperloop One signs deal on first commercial route
By Mike Hayes15 September 2017
The maglev transportation system group Hyperloop One has signed a deal in the US, to pursue its first commercial route.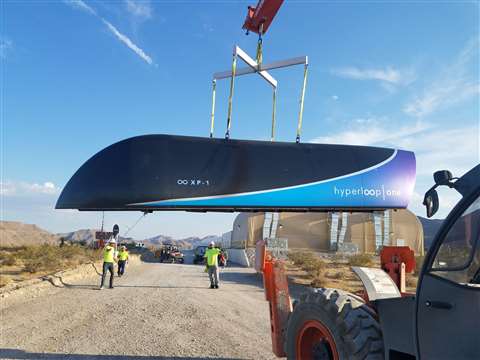 The Hyperloop technology promises to electrically accelerate magnetically-levitated passenger pods through a low-pressure tube, to speeds of up to 1,000km/h. The system was tested earlier this year in the US and is now ready to be rolled out on the international stage.
Of the hundreds of proposals received by Hyperloop One, through its Global Challenge initiative, a shortlist of ten routes was produced, comprising:
Mumbai to Chennai (1,102km)
Dallas to Houston (1,030km)
Chicago, Illinois to Columbus, Ohio to Pittsburgh, Pennsylvania (785km)
Edinburgh to London (666km)
Toronto to Montreal (620km)
Cheyenne, Wyoming–Denver, Colorado–Pueblo, Colorado (580km)
Liverpool to Glasgow (545km)
Mexico City to Guadalajara (532km)
Miami to Orlando (414km)
Bengaluru to Chennai (324km)
Hyperloop One has since struck its first deal, with Rocky Mountain Hyperloop, proposed by the Colorado Department of Transportation and the US engineering firm Aecom, which will run the Wyoming to Colorado route.
Hyperloop One CEO, Rob Lloyd, said, "We're excited about the partnership with CDOT and Aecom, which was a direct result of the Global Challenge and a testament to the power of open innovation. This is unprecedented and demonstrates how quickly the public and private sectors can partner to make Hyperloop systems a reality around the world. Studies like this bring us closer to our goal of implementing three full-scale systems operating by 2021."