Hyundai aims for top
By Thomas Allen25 May 2017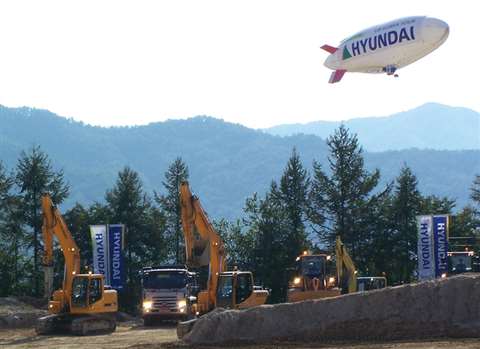 Korean manufacturer Hyundai Construction Equipment (HCE) has announced its goal of becoming one of the top five ranking construction equipment manufacturers on the global market by 2023.
Kong Ki-young, president and CEO of HCE, said that this would be achieved by upgrading product quality and performance to the top-tier level, along with services, and expanding its footing into new overseas markets.
As part of the company's Vision 2023, it aims to take first position in its home market this year by actively expanding its new product lines of mini excavators, which have witnessed an annual average growth rate of 13% over the past five years, and by applying its Hi-Mate 2.0 mobile control system to more of its products.
Specifically targeted at the domestic market, HSE has unveiled its HW145 excavator and 30D-9H forklift.
The company's ambitious plans come on the back of its new-found independence. In 2016, Hyundai Heavy Industries broke the firm up into six separate companies to improve managerial efficiencies and give the different divisions the opportunity to realise their full potential.
HCE recorded a 91% increase in domestic sales in the first quarter of 2017, which it attributed to its efforts to launch metropolitan-level retail stores, second-hand product distribution support centres and Hi-Tech Team nationwide service centres.
The company also enjoyed 30% growth in its global sales in the same period, which was said to be the result of customised products being introduced in emerging markets and a general recovery in the global construction equipment market as a whole.