Hyundai launches heavy duty loader
By Steve Ducker31 May 2018
Hyundai has launched its HL960 HD heavy duty wheeled loader – and says it has been designed with the European and North American waste handling and recycling industries and their high growth rates in mind.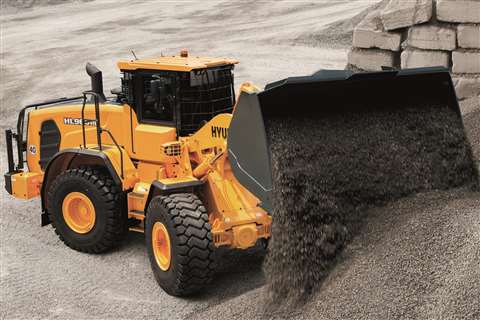 The new machine has an operating weight of 19,300 kg (42,549 Ib) and at its heart is the latest Stage IV Cummins QSB6.7 electronically controlled diesel engine with a net power of 222 hp (166 kW) at 2,200 rpm.
The robust HL960 HD has designed with customised solutions for working in harsh environments, including a heavy-duty axle with enhanced load capacity for durability like the larger HL970.
The maximum load capacity is 44,000 kg (97,000 lb) at the front and 35,000 kg (77,161 lb) at the rear, which is considerably larger than the HL960 wheeled loader.
Options available on the new machine include extra guarding for the industrial sector which protects both man and machine from falling debris and materials. The guarding also protects against materials making their way into the machines major components.
Guarding options are available on the new HL960 HD for the cabin, bucket cylinder, head lamp, attachment hoses, rear combination lamp and rear grill.