Hyundai launches three Stage V loaders
By Mike Hayes14 November 2019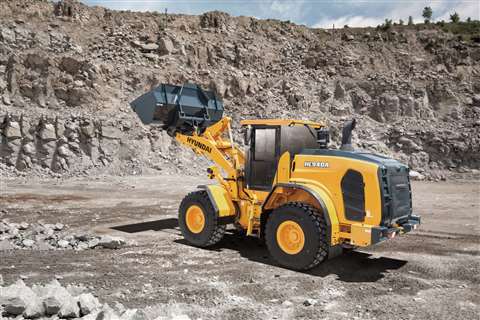 Hyundai's HL940A wheeled loader is put through its paces
Hyundai Construction Equipment Europe (HCEE) says that, in response to strong demand for heavy wheeled loaders in the European market, it has launched it's A series, a range compliant with Stage V emission regulations.
The company says that the new range not only meets EU requirements but exceeds them, as well as offering other benefits, such as enhanced performance and productivity, additional safety features and improvements in uptime and operator experience.
The HL940A, HL955A and HL960A share common key features, including the new Cummins Stage V compliant engine platform, a fuel-efficient Power Smart mode, a modified cabin interior and enhanced operator controls and improvements in the design of the axle, linkage and MCV (main control valve).
The Cummins engine includes an all-in-one exhaust after-treatment system, requiring no manual DPF (diesel particulate filter) regeneration or EGR (exhaust gas recirculation) which, according to Hyundai, increases its reliability.
Operators can use three Intelligent Work Modes (Power, Power Smart and Economy) allowing full engine power when required, or reduced fuel consumption, dependent on the application.
Hyundai says use of the Power Smart mode leads to reduced energy losses resulting in fuel savings of between 3% and 5%.
Additionally, says the company, optimized engine performance means higher torque at lower rpm, again improving fuel efficiency.
Inside the cab, the new A series loaders have electro-hydraulic ergonomic joysticks for the front-loading arm. An optional second advanced steering lever enables joystick driving.
The premium seat comes with four-way air suspension and the fully adjustable armrest results in higher operator comfort and less operator fatigue.
Common across the range are a number of safety improvements, including a proprietary rear-view camera, remote door control (no need to open the door while standing on the machine's steps), and a new engine cover design, giving greater visibility for the operator.
As an option, the A series loaders can also be fitted with a reverse drive radar system, for the detection of obstacles within 10m of the machine, during the day and at night.
The HL955A and HL960A have increased rear axle capacity and an all in one main control valve – a combination of the ride control valve and the EPPR valve – that promises improved uptime due to a reduction in hydraulic hoses.