Hyva extends loader crane range
By Alex Dahm24 November 2017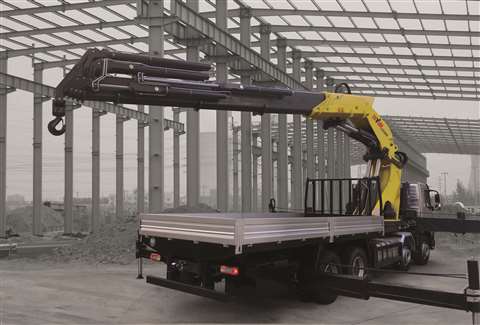 Three new hydraulic loader crane models launched by Dutch manufacturer Hyva extend its range upwards.
They are the HC951, HC1151 and HC1651, rated at 95, 115 and 165 tonne-metres, respectively. Typical applications are in the rental service sector for multi-purpose loading activities with specialist driver-operators, explained Davide Catellani, Hyva director, cranes. "They also meet the requirements for heavy equipment and materials lifting in the oil & gas, mining, logistics, defence and construction sectors," Catellani continued.
All three new cranes have continuous slewing with two slewing motors, the Liftrod Articulating System (LAS) for constant capacity through the radius range and the Extra Extension Speed (EES) and Smart Extension Sequence functions for faster operating speed, shorter load cycle times, and more precise and safer operation, Hyva said.
Another feature of the design is an integral base that allows the crane to be mounted directly to the truck chassis, reducing height and lowering the centre of gravity.
As an example, the HC1151 with eight hydraulic extensions has a reach of 19.52 metres. Included is an automatic lubrication system to simplify maintenance and help maximise resale value.