I.COM builds $675 million chemical complex
By Laura Hatton06 August 2014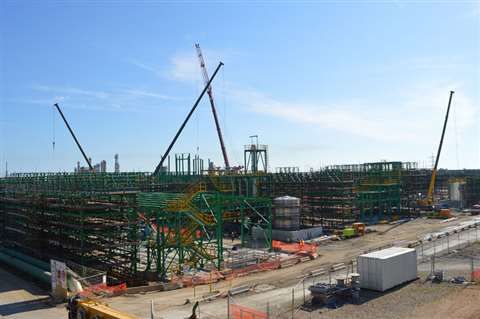 A €500 million (US$ 675 million) chemical processing plant is being built in Italy with help from a team of Grove all terrain and rough terrain cranes.
The chemical complex is being converted from a fossil fuel plant to a bio-based production facility. It forms part of the Porto Torres Green Hub project in Sardinia, off the coast of Italy.
On site at the time of writing were two 75 tonne capacity GMK4075 all terrains, a 100 tonne capacity GMK5095 and a 300 tonne GMK6300L. Also on site are a 35 tonne capacity RT540E and a 45 tonne capacity RT550E rough terrain. The cranes were supplied by Italian dealer FIMI for main contractor Italian construction company I.COM.
Tasks for the cranes include lifting and installing 15 tanks, 17 racks measuring 950 metres and weighing a total of 1,188 tonnes, 51 heat exchangers, 78 reactor vessels, eight thermal columns, 18 mixer units, 125 pumps and 51 km of piping, a company spokesperson said.
Challenges include working in a marine environment, navigating tight corners, sand and uneven terrain.
Luca Pibiri, general manager at main contractor and crane owner I.COM, said, "This is not the first time we've used our Grove cranes on a project of this size and importance and, as before, we are confident they will deliver excellent performance. Grove cranes are durable and reliable machines and our operators find their simple operating systems and fast set up make life much easier."
Enrico Angiolini, director South Europe at Manitowoc Italy, adds, "This is such a big project that needs the best equipment and the best service. FIMI's staff has the expertise and the experience to fully meet the needs of the customer and ensure this ambitious project moves ahead on schedule."
Work began at Porto Torres in June 2011 and the first Grove crane arrived at the site in September 2012. All six cranes will remain on site until work is completed in 2018. The plant will produce bio-plastics, bio-lubricants and bio-additives.