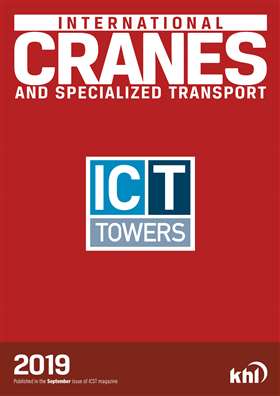 Reports of a buoyant tower crane market have been running for several years and this year's IC Tower Index ranking of the world's largest tower craneowning companies is no exception. Following last year's "mere" 10 per cent growth, in 2019 we are back up, to a 26.66 % increase in the Top 20 Index. It is much more like the 29 % and 23 % rises of the two years prior to that. If you total just the top five companies then the rise, in percentage terms of 40 %, looks even more impressive. It follows 12, 21 and 25 % rises in the preceding three years' top fives.
A major milestone reached this year for the first time is to break the one million tonne-metres total IC Index figure for the not one but two top companies in the list. As part of that is a change at the top with the return of Shanghai Pangyuan Machinery Rental to the number one position, ending Abu Dhabiheadquartered international giant NFT's three-year reign at the top since the two were the other way around for two years in 2014 and 2015.
Supporting documents
Click links below to download and view individual files.