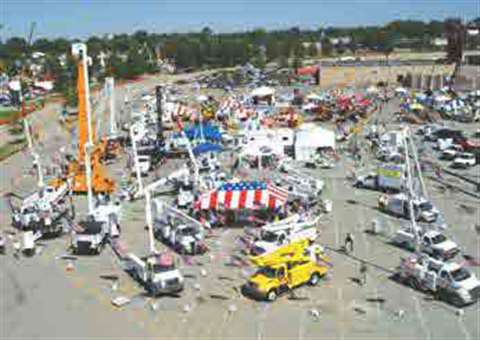 One of the conference topics at this year's ICUEE show is titled 'Telecommunications boom – will it last?' Not everyone would say the market is booming – an 'uptick' is how Judie Taylor, president of Utility Equipment Leasing Corp, currently describes it (see Interview, this issue) – but there is definitely a high level of confidence, with utility companies engaged on major rehabilitation projects on the Eastern US seaboard and new utility infrastructure projects in the West.
Boom or uptick, the result is greater investment 2005 62 in utility aerial devices. ICUEE is the best place in the world to see the latest models, and all the big suppliers – including Altec, Terex Utilities and Time Manufacturing – are appearing at the show. Several have new machines to launch.
Terex Utilities, for example, has entered into a development joint venture with Bizzocchi of Italy for high-reach transmission line platforms – the first fruits of which will be the TM 167 NI machine on show at ICUEE (See News this issue). The company will also add a 36 ft (11 m) cable placing unit to its range.
Visitors will also see aerials, including some new models, from manufacturers including Elliott Equipment, Equipment Technology Inc, Dur-A-Lift, Lift-All/Hydra-Tech and Posi-Plus Technologies. Genie Industries attends as part of the Terex Group. A full listing of the exhibitors can be found at www.icuee.com.
Readers are also alerted to the conference sessions that will take place throughout the event, with several focusing specifically on aerial lifts. There will be plenty to see and do, so make the most of it.