Visitors braved heatwave temperatures to break the ICUEE attendance record this week in Louisville, Kentucky, with more than 19,000 registered attendees at the utility industry show.
"We shattered our attendance record on Tuesday," said John Rozum, ICUEE show director. "Our 70 registration kiosks were printing 25 badges per minute between 8 and 10 a.m."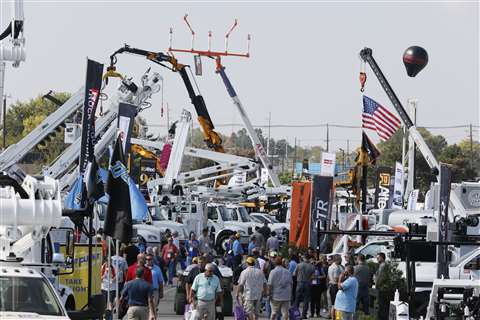 More than 1,000 exhibitors took part in the show, with major new utility lift product launches from companies including Terex Utilities, Versalift, Posi-Plus and Altec.
The positive show reflects a still busy utility sector in the USA.
"The market continues to stay strong", said Joe Caywood, Director of Marketing at Terex Utilities, speaking to Access International, "There is a lot of work still to be completed to connect renewable resources as well as work on the reliability of the grid."
Also positive was Dennis Depazza, Chief Business Development Officer at NESCO Specialty Rentals, one of the largest utility equipment rental businesses in North America. He told AI that its business remained strong, driven by CapEX investment by utility companies; "Nobody is complaining about the amount of business our contractor customers are doing."
Rick Johnson, ICUEE 2019 show chair and CEO Emeritus of Charles Machine Works, said; "By all measures, this was an outstanding ICUEE with more to see and experience than ever before, and it was gratifying to see such positive energy among attendees and exhibitors.
"ICUEE is always such a tremendous opportunity to make lasting industry connections that help participants continue to grow and stay competitive."
The show this year included an effort to attract the next generation of workers. A Career Skills Event, organised in partnership with Bridging America's Gap, brought hundreds of high school students from throughout Kentucky and southern Indiana to the show to interact with exhibitors and learn about rewarding industry careers.
See future issues of Access International and Access, Lift & Handlers (ALH) magazines for a full report on the show.