IHS Markit downgrades global GDP forecasts
By Murray Pollok12 March 2020
Global GDP growth could soften to 1.7% this year as a result of the coronavirus outbreak, according to consultant IHS Markit. That represents a significant fall from the earlier forecast of 2.5%
Scott Hazelton, Managing Director Construction Consulting at IHS Markit, speaking at the Off-Highway Research breakfast briefing on 11 March during ConExpo, said the outbreak would impact on all regions, with US GDP growth falling from 2.1% to 1.8%, and Europe from an already modest 0.9% to close to zero growth.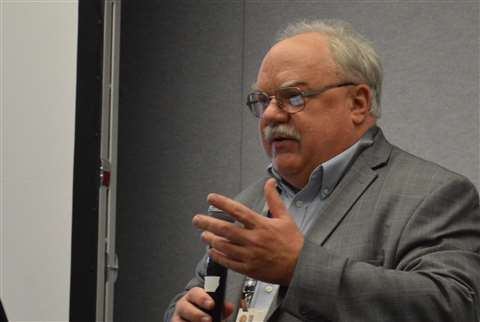 "The biggest problem is Europe", said Hazelton, "which we now think will go into recession." He emphasised that the rapidly changing picture on the outbreak made forecasting very difficult.
On US construction he said an already slow market was likely to face a deeper decline, and warned that lower oil prices could have a significant impact on oil and gas activity in both the US and Canada.
Also at the breakfast briefing, Chris Sleight, Managing Director of Off-Highway Research (OHR), said the virus could trigger a short, sharp downturn in construction equipment sales.
"What we will see as a result of the virus is a sudden dip in sales mid-year", said Sleight, "but we think it will bounce back and be a temporary thing. We are already seeing stimulus efforts [in China]."
OHR was already forecasting a decline in construction equipment sales in North America this year, with demand levels hanging on what happens with infrastructure spending and any potential Trump push on infrastructure. "We will wait and see", said Sleight, "Without infrastructure spending, the US will head into a cyclical decline."
This year is also likely to see a reduction in sales in Europe, said Sleight, although there is a potentially brighter outlook on infrastructure; "We see a market pivoting to infrastructure in Europe…We don't see too many reasons for panic about the European construction equipment market."