India's longest bridge opens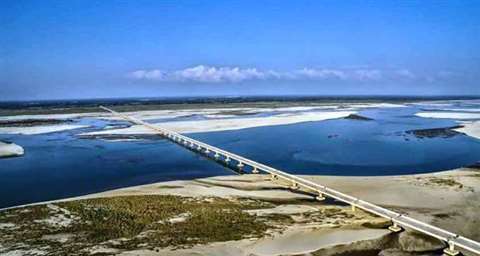 India's Prime Minister, Narendra Modi, officially opened the country's longest bridge on Friday.
The US$155 million Dhola-Sadiya Bridge spans the rivers Brahmaputra and Lohit, in upper Assam.
At 3.1 km longer than the Bandra Worli Sea Link in Mumbai, the new bridge is the longest in the country above water.
The Dhola-sadiya bridge is a 12.9 m wide, with 183 spans, each of 50 m, and carries a two-lane connecting road from Dhola Bazaar to Islampur Tiniali.
According to reports, the crossing to Sadiya near the Lohit border in Arunachal, will take 30-minutes, reducing travel time by four hours.
Construction of the bridge began in 2011 and was originally expected to be completed in December 2015.
In tweets, Mr Modi described the bridge as "one of the most important infrastructure projects to be undertaken in India".